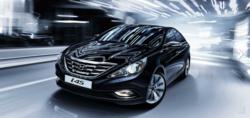 But of course the toughest of all critics are consumers, and they have repeatedly indicated high interest in the i45.
(Vocus/PRWEB) January 27, 2011
It's not just the motoring media lauding Hyundai's i45 sedan – consumer groups praise the car too.
"Right through 2010, the i45 received numerous awards and accolades from the international motoring media, leading online industry directories, design institutes, safety associations," commented the Chief Operating Officer of Hyundai New Zealand, Tom Ruddenklau.
"But of course the toughest of all critics are consumers, and they have repeatedly indicated high interest in the i45.
"For example, the car is placed in the top five most researched new models in the United States' largest automotive vehicle valuation company, the respected Kelley Blue Book – and the list goes on with the i45 repeatedly recognised as class-leading," said Mr Ruddenklau.
Across numerous comparison tests the i45 delivered top results, with outright wins from Edmunds.com, Car & Driver Magazine, USA Today and Wheels Magazine, all rating the i45 as number one in its class for on-road performance and driver experience.
Since a cornerstone of the Hyundai brand is ensuring industry-leading technology is affordable to everyone, it's hardly surprising that recognition has been received for affordability from leading publications; the US News, Sports Auto and TopSpeed magazines among others.
Hyundai's 'fluidic sculpture' design language expressed in the i45 was recognised with a prestigious Australian Design Award. Developed from the ground up and with meticulous attention to detail, the i45 has been praised by the Australian Institute of Design, which applauded the "considered approach to the professional design process", and the "incorporation of innovation and environmentally-responsible decisions."
And the i45 has been recognised across the automotive segment, competing against all classes, to receive coveted Car of the Year titles from titles including Sports Auto, Gulf Auto and Detroit News.
At this month's Detroit International Motor Show, the i45 was recognised by Road & Travel Magazine as its 2011 International Car of the Year
With over 440,000 units sold globally in 2010, the i45 has not only been a game-changing new model in the Hyundai line-up, but also one of the most successful new vehicles Hyundai has ever produced.
###