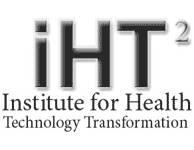 Mobile technology is rapidly changing the world, leveraging it's access will be pivotal in promoting health and wellness to the public at hand
New York, NY (Vocus/PRWEB) January 27, 2011
The Institute for Health Technology Transformation announced today the speakers for their panel session entitled, "Mobile Health: Extending care beyond the hospital walls" at the Institute's Health IT Summit in Atlanta taking place April 5-6, 2011 at The Westin Peachtree Plaza.
The panel will be moderated by Scot Petersen, Editorial Director, CIO/IT Strategy Media Group, TechTarget, and speaking will be Alexander Nason, Program Director, Johns Hopkins Medicine Interactive & Director, Telehealth, Johns Hopkins Medicine; Chuck Parker, Executive Director, Continua Health Alliance, Michael Monson, VP, Performance & Innovation, Visiting Nurse Service of New York, and Neil Pierce, Mobile Executive Business Lead, Strategic Communications, Humana, Inc..
The panelists will be addressing a wide range of topics including: wireless networks, devices and applications, cost compensation, and security concerns. "Mobile technology is rapidly changing the world, leveraging its access will be pivotal in promoting health and wellness to the public at hand," said Neil Pierce.
The iHT2 Health IT Summit in Atlanta is the premier executive summit focused on the strategies and tools that are re-defining customer care, collaboration, and efficiency in the health care provider markets.
Sponsors and Partners for the 2011 Health IT Summit in Atlanta include: Axolotl, EDIMS, Holon Solutions, MEDSEEK, MMR Global, RelayHealth, AMDIS, ADVANCE, CMIO, eHealth SmartBrief, Frost & Sullivan, Healthcare IT News, IDC Health Insights, MobiHealthNews, and SearchHealthIT.com.
About the Institute for Health Technology Transformation:
The Institute for Health Technology Transformation is the leading organization committed to bringing together private and public sector leaders fostering the growth and meaningful use of technology across the healthcare industry. Through collaborative efforts the Institute provides programs that drive innovation, educate, and provide a critical understanding of how technology applications, solutions and devices can improve the quality, safety and efficiency of healthcare.
http://www.ihealthtran.com
# # #