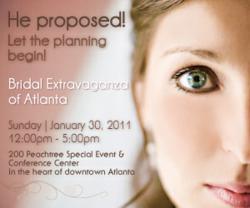 showcasing the newest wedding trends, table and theme designs, fresh and creative ideas for every budget in a fun, exciting and memorable way to better reflect the dreams and desires of today's bride
Atlanta, Georgia (Vocus/PRWEB) January 27, 2011
When the doors open Sunday for the next Bridal Extravaganza of Atlanta wedding show at the 200 Peachtree special event center in downtown Atlanta, hundreds of brides will discover an extraordinary mix of talent and resources to help plan their special day.
But what brides, grooms, friends and family involved in wedding planning will also discover is an experience that transcends the traditional trade show style wedding show.
"This is not about being the biggest and most massive show in the country, this is about being the best in terms of quality," says Donna Jakulski, the bridal show veteran who has created the new Bridal Extravaganza of Atlanta to better reflect the dreams and desires of today's brides. "We're focused on showcasing the newest wedding trends, table and theme designs, fresh and creative ideas for every budget in a fun, exciting and memorable way."
The Bridal Extravaganza difference is its focus on making connections with brides to assist their planning before, during and after the show, through digital and social media…and through personalized events like the Bridal Extravaganza.
"The internet gives everyone instant access to resources and images," adds Jakulski, "but it doesn't give you the personal and emotional benefit you get from meeting the most recognized designers in the industry, as well as the chance to compare the work of Atlanta's best wedding professionals and vendors. We're actively engaging with brides through our social media to be their guide to find the best deals, have the best chances to win incredible promotional giveaways and to introduce them to and provide more information about participating wedding professionals than they might be able to gather by attending a show alone."
The show on Sunday, January 30, 2011 at 200 Peachtree in downtown Atlanta, Georgia, features 120 Wedding Professionals, who are among the best in the region. The Bridal Extravaganza show also features special guests with national and international prominence—Carley Roney, who has created "The Knot as the leading wedding resource site in the country, and Jorge Perez, the internationally acclaimed luxury designer who will reveal his new line of wedding gown designs at the show. Both of whom are also connecting with brides attending the show directly and engaging with them in social media conversations.
The Bridal Extravaganza of Atlanta produces two major annual shows, is planning a national wedding industry business conference and beginning in March 2011 is also introducing a more intimate "Ultimate Wedding Showcase" as a recurring event where brides can have more one-on-one time with vendors that match their needs and stated interests.
"We're listening to what our brides really want, and using our 20+ years of relationships and experience to create a more meaningful and wonderful wedding planning experience for all brides who attend our Bridal Extravaganza shows, or the more intimate "One-on-One Ultimate Wedding Showcase" experience.
From Atlanta's best wedding venues, dream destination planners, most creative caterers, fabulous floral and event designers, amazing photographers, wonderful wedding cake creators, entertainment specialists and all of the best wedding professionals and resources, the emphasis is always on quality, professionalism and creativity.
Tickets for The Bridal Extravaganza of Atlanta are available in advance online at http://www.bridalextravaganzaofatlanta.com at a reduced rate of $10 for general admission, and $15 cash only day of show.
The show is sponsored by The Knot, The Wedding Channel, Brides.com, Brides Atlanta, Atlantabridal.com, The Atlantan Bride, Atlanta Bride and Groom Planner, Atlanta Occasions Magazine and The National Association of Catering Executives (NACE)—Greater Atlanta Chapter.
Brides can follow the show to receive updates on special promotions and discounts on twitter @bridalextravatl or on facebook.com/bridalextravaganzaatl as well as registering on the show web site http://www.bridalextravaganzaofatlanta.com.
###