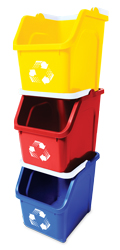 The biggest obstacle small office spaces, apartments, condominiums and school campuses face when it comes to incorporating an effective recycling system is finding a container that is easy to handle, easy to use and doesn't take up much space.
Barrie, Ontario (Vocus/PRWEB) January 28, 2011
The biggest obstacle when it comes to developing a single stream and multi-stream recycling program within small office spaces, apartments, condominiums and school campuses is finding a recycling container that is efficient to use, easy to clean, easy to handle and attractive in appearance.
The goals for most schools, daycares, residences and offices within an environmentally aware population, is to develop an effective multi and single stream recycling program. Sustainability within colleges and universities is growing at a profound rate. More and more schools are becoming educated on the different ways they can reduce waste through the development of a recycling program.
Busch Systems offers a solution to the issues offices, apartment residents, colleges and universities face when incorporating a single stream or multi-stream recycling program into a small space. Designed to fit into any college or university campus, class room and residence, the Multi-Recycler is a great way to divert waste and build a solid and effective single and multi- stream recycling program.
The Multi-Recycler is perfect for waste diversion in its size, look and easy maintenance. College and University students and teachers will find their Multi-Recycler very easy to use. With its smooth edges and rounded corners, the Multi-Recycler is easy to clean by hand but is dishwasher safe for residents and campuses that have one.
The color selection for the Multi-Recycler from Busch Systems is a popular benefit. By offering aesthetically pleasing colors to choose from as well as the option to custom stamp, the Multi-Recycler opens new possibilities for any college or campus recycling program. You can easily sort your paper, plastics, cans and other recyclables with the Multi-Recycler System. Because it is stackable, this is a huge benefit to anyone living in or working with a tight space. With handles, students can carry their recycling bin easily to their main recycling station. For colleges, universities and elementary schools, the school logo can be custom printed on the face of the Multi-Recycler bins to make the recycling container easy to identify and endorse the school team spirit at the same time.
For more information about the Busch Systems Stackable Multi-Recycling Container, or other Busch Systems Products, please visit their website at buschsystems.com.
###