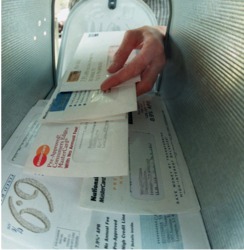 "The proverbial wheels of the credit engine are being greased once again," says Anuj Shahani, director of competitive tracking services for Synovate. Banks have
(Vocus/PRWEB) January 31, 2011
Credit card solicitations last year rose to 2.73 billion from 1.39 billion in 2009. That's according to market research firm Synovate's Mail Monitor. The credit card is back, with bigger and better offers than ever.
"The proverbial wheels of the credit engine are being greased once again," says Anuj Shahani, director of competitive tracking services for Synovate. Banks have saturated super-prime households and are again looking to subprime consumers to build up their revenues. That's good news for people who were shut out of credit cards over the past two years. However, getting a card will probably cost them more, due to higher interest rates and fees.
Some may consider this good news, however the credit card offers of 2011 may be more costly then ever. Despite the Credit Card Accountability, Responsibility, and Disclosure Act of 2009 (CARD), card companies are finding new ways to charge consumers.
For many American Consumers the use of credit cards has led them into severe financial hardship. For Helen Baker, a New Jersey resident it was everyday problems that led to her high debt. Helen engaged with an attorney based debt resolution company. The Rosen & Winig law firm helped Helen reduce her debt.
Rosen & Winig use the legal support services of Morgan Drexen, who were recently requested to assist Southern Californian Bankruptcy Trustee Jeffrey Golden. Morgan Drexen use complex automation to assist the critical workflow of attorneys across the United States. This allows for enhanced productivity and saves the Law firms money. Morgan Drexen also provides paralegal and accounting services.
Helen was dealing with $40,000 in debt; her debt had one singular cause, credit cards. The biggest lesson Helen learned was, "I have no credit cards now. You don't buy what you can't afford. If you don't have the money in the bank then you can't have it," says Helen. She admits that during the debt resolution program she had to make some sacrifices, but being debt free was worth it.
Credit card companies start soliciting prospective consumers at an early age. In a recent investigation highlighted by CNN Money, a consumer wishing to remain anonymous admitted that her 3 year-old daughter had received an application from American Express. On contacting AMEX, a spokesperson for the company apologized and immediately removed the 3 year-old from its mailing lists.
A similar story occurred for a 12 year old whose name was mistakenly put on the American student list, that list was then provided to Discover and 1st Financial Bank.
Patricia Goodman engaged with an attorney based debt resolution company in Florida. That Florida law firm was Figueredo & Boutsis, who are supported by the complex workflow automation of Morgan Drexen. She engaged with more then $180,000 in debt with Bank of America. Already struggling with the high debt Patricia received yet another card from the company with a credit limit of $6,000.
Consumers need to be cautious of the new and tempting credit card offers, as credit card solicitations as predicted by Synovate's mail monitor will continue to rise in 2011.
Source- Raychel Harvey-Jones – Morgan Drexen ©
# # #