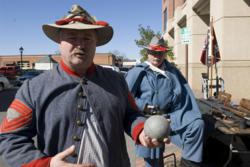 (Vocus/PRWEB) January 28, 2011
On March 19, 2011, Hampton marks the 150th anniversary of the Civil War with the Hunt for Hampton History: The Civil War1861, a historical showcase taking place at the Hampton History Museum, Rupert Sargent Building, and along Old Hampton Lane in downtown Hampton. Gather 10:00 a.m. – 4:00 p.m. to collect, explore, and share Hampton's historic role in the War Between the States. Best of all, the event is absolutely free!
Initiated in 2007, the Hunt for Hampton History invites members of the general public to "show and tell" family treasures and heirlooms from Hampton's past. This year, the event will highlight the onset of the Civil War in Hampton. Photographers and data entry staff will be on site photographing and/or scanning memorabilia to be added to a public archive. Once uploaded, the photos will be available for viewing at http://www.hampton400.com. Previous years archives are currently available online.
In addition to the "show and tell" portion of the event, there will be plenty of activities and demonstrations for the entire family, including a USS Monitor program by The Mariners' Museum Chief Curator Anna Holloway, an exhibit featuring "Slab Town" by the Contraband Historical Society, and a display entitled "Union Soldier's Home in Hampton" by Shelby Liston. The Hunt will also feature re-enactors from the Portsmouth Naval Shipyard Museum, Peninsula Artillery, Norfolk Light Artillery Blues, Norfolk County Grays, Union Signal Corps, 32nd Virginia Infantry, 3rd Virginia Infantry, 79th New York Infantry Regiment, and Old Dominion Military Society, among others.
Other highlights of the Hunt for Hampton History: The Civil War 1861 include free admission to Hampton History Museum exhibits, free tours of St. John's Church, period music by folk artist/musician Bob Zentz, Luther W. Machen Elementary School History Club re-enactors, children's activities, and an interpretation on the burning of Hampton. There will also be book signings by local authors Dr. Cassandra Newby-Alexander, Michael Cobb, John V. Quarstein, Will Molineux, and James Tormey.
Hunt for Hampton History: The Civil War1861
Saturday, March 19, 2011
10:00 a.m. - 4:00 p.m.
Hampton History Museum, Rupert Sargent Building, Old Hampton Lane
120 Old Hampton Lane
Hampton, VA 23669
For more information on the Hunt for Hampton History: The Civil War 1861, interested parties are encouraged to contact the Hampton History Museum at 757/727-1610.
Partially bordered by the Hampton Roads harbor and Chesapeake Bay, Hampton, with the 344,000 sq. ft. Hampton Roads Convention Center, is located in the center of the Hampton Roads metropolitan area. Hampton is the site of America's first continuous English-speaking settlement and is home to such visitor attractions as the Virginia Air & Space Center and Riverside IMAX ® Theater, Hampton History Museum, harbor tours and cruises, Hampton University Museum, Fort Monroe, award-winning Hampton Coliseum, The American Theatre, among others.
# # #