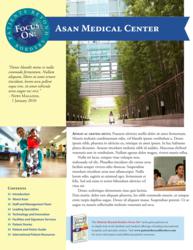 "Korea has some of the best healthcare and medical infrastructure in the world, and Asan Medical Center has clearly secured its place as one of the country's leading providers."
Chapel Hill, NC (Vocus/PRWEB) January 31, 2011
Patients Beyond Borders,® the best-selling consumer reference guide on medical tourism, is pleased to announce the April 2011 release of FOCUS ON: Asan Medical Center (AMC), profiling South Korea's largest nonprofit hospital. FOCUS ON: AMC will feature the medical center's world-class facilities, highlight its pioneering developments in areas such as organ transplantation and coronary artery intervention, and showcase its many world-renowned centers of excellence.
Established in June 1989 by Hyundai Motor Company founder Chung Ju-Yung (also known as Asan), AMC's mission was to create a hospital with an emphasis on "caring for life and sharing with those in need and pain." Today, the main facility—one of the largest hospital campuses in the world—encompasses more than 4 million square feet and houses over 2,700 beds. AMC also has longstanding partnerships with the University of Ulsan College of Medicine (Seoul), Partners Harvard Medical International (Boston), Imperial College London, and various hospitals across Asia.
"Korea has some of the best healthcare and medical infrastructure in the world, and Asan Medical Center has clearly secured its place as one of the country's leading providers," said Josef Woodman, president and CEO of Healthy Travel Media. "Revered for its high success rates with organ transplantation and treatment of cancer and vascular disease, Asan is also well known for disease prevention. And the savings are substantial—averaging 20% to 60% less than US costs."
Offering patient-centered care and international partnerships for post-operative care, coupled with full-time English-speaking specialists, patient escorts and translation services, and other international patient services, the center currently attracts more than 3,300 global patients per year. AMC's patient-centered mindset is further manifested in its surroundings, including rooftop parks, multicultural eateries, retail shops, on-site library, and more.
"We believe that partnering with Patients Beyond Borders will provide even greater branding and visibility for us, particularly in promoting our facility to the international patient," said Dr. Joon Pio-Hong, MD, PhD, MBA, chief of the Plastic Surgery Department and director of Asan's International Office. "This new digital and online format will be far more accessible to healthcare consumers."
FOCUS ON: AMC will be accessible from a variety of sources, including the Patients Beyond Borders website, AMC's website, Kindle, GoogleBooks, Apple iBooks and other eBook readers, iPhone and other mobile devices, medical, business, and reference libraries worldwide, and all popular social networks.
Patients Beyond Borders' new FOCUS ON: series features 32-page, full-color digital brochures and eBooks highlighting the world's leading, internationally accredited hospitals and specialty centers in a fully searchable, consumer-friendly format. Published under the Patients Beyond Borders brand, the series offers healthcare consumers detailed information on specialties, procedures, costs, and travel planning from the most recognized, trusted source in international medical travel.
About Asan Medical Center
Established in 1989, Asan Medical Center (AMC) is the parent of seven hospitals, which are part of the Asan Foundation established in 1977, and has nonprofit operations in areas including healthcare, social work, scholarship, and R&D support. The AMC network also includes the University of Ulsan College of Medicine, Partners Harvard Medical International, and Imperial College London. Their Institute for Life Sciences and Clinical Research Center functions as a ground for research and training, new treatments development, and clinical study for cancer treatment. AMC has been ranked first in JMA Consultants' Global Customer Satisfaction Competency Index (GCSI) for the past three years.
For more information on Asan Medical Center, please contact:
Asan Medical Center
Asanbyeongwongil 86, Songpa-gu
Seoul, SOUTH KOREA 138-736
Tel: +82 2 3010.7942
Email: aio(at)amc(dot)seoul(dot)kr
Web: http://eng.amc.seoul.kr
About Healthy Travel Media
Healthy Travel Media, based in Chapel Hill, NC, publishes books and eBooks as well as video, online, mobile, and social networking information and applications on medical, health, and wellness travel. Its flagship international title, Patients Beyond Borders, now in its Second Edition, is the world's leading consumer reference guide on medical tourism and is filled with authoritative, accessible advice. Country editions, city editions, and individual facility editions help healthcare consumers make informed choices toward successful medical travel.
For more information or media queries, please contact:
Judy Orchard, communications manager
Tel: +1 919 545.0668
Email: jorchard(at)patientsbeyondborders(dot)com
Web: http://www.patientsbeyondborders.com
Note: Qualified members of the media are invited to request a review copy of the international Patients Beyond Borders: Second Edition or any other title from our growing library. Please contact jorchard(at)patientsbeyondborders(dot)com.
# # #