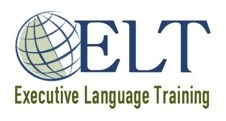 It isn't a regular ESL class – it is more about communicating in business.
Lake Bluff, IL (PRWEB) October 11, 2011
Across all industries, language competence is becoming increasingly important for business managers and executives. In a recent survey by Euro London Appointments, almost 90 percent of employers said they thought language was an important skill set. Respondents cited that communication skills are a "key differentiator" for employability. English is the lingua franca of the business world, and Human Resource Managers from different industries recognize that employees' English language abilities impact their company's success. Executive Language Training addresses this need by providing individualized Business English courses for employees to help them communicate clearly and effectively in the workplace.
Global executives need language skills to negotiate solid agreements, serve customers better, and communicate with partners more effectively, according to a study done by The Language Flagship, an organization that leads in designing and implementing a new model for advanced language education. "More managers can work more effectively with their peers," said Monica Valadez, an HR Generalist who has organized several Business English programs through ELT for her co-workers. She cited an example in which one employee, a non-native English speaker who had lived in the US for many years, worked with his trainer to learn he had been misinterpreting news articles. "Based on what ELT offers, we thought it would be useful and it has been. It isn't a regular ESL class – it is more about communicating in business," Valadez said, adding that having a personal language trainer helps focus lessons on the skills a manager needs.
In addition to language, the role of culture has a direct impact on the bottom line. If a global manager from the United States does not know how to establish a trusting business relationship and cannot gain the respect of international business associates, accomplishing business goals will be difficult, according to a study by the Society for Human Resource Management. Cultural competence is a critical skill for global managers, and organizations that foster these tools and ensure their managers have these abilities are at an advantage.
Cultural training is important for all non-native English speaking employees, even if they have been in the US for many years, Valdez said. She added that cultural differences have been a challenge but that the lessons have helped these managers overcome this. ELT's Business English programs cover cultural topics in all of their sessions, and clients can work with trainers to target the specific issues they want to cover. "We can understand them better, and the program participants ask better questions and know what to ask us," Valadez said of the employees enrolled in Business English programs.
"Many Human Resource Managers have found the need to set up communication plans within their organization to address the needs of their diverse workforce," said Gina Gramatis, ELT's Director of Training & Development. "Many times, their needs include a combination of cultural and language training, along with industry-specific language," she added. Companies can work with ELT's staff to develop tailored courses in which employees learn workplace vocabulary and procedures, or a more general course that allows for flexibility based on language needs. Our Executive English offerings include topics like technical writing, presentation skills, negotiation techniques, and accent reduction strategies.
About Executive Language Training LLC
Executive Language Training is an industry leader in providing customized English and foreign language training to professionals, managers, corporations, and government agencies nationally and internationally. All language courses can be taken by individuals or small groups, and the classes are taught by certified trainers. Each program, from Business English to Accent Reduction, is implemented to address the individual goals and learning style of every client. Over the years, ELT has provided language services to thousands of professionals in the US, Asia, Europe and the Americas. To learn more about ELT, visit http://www.eltlearn.com. For more information about our Business English programs, visit http://www.eltlearn.com/businessenglish.htm.
Contact Information: pr@eltlearn.com, (847) 235-2300
###