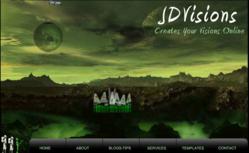 We Create Your Visions Online.
Riverside, CA (PRWEB) October 01, 2011
Feel the crunch. The entire country is struggling to keep our heads above water during our Nation's current Economic Crises, and it is not easy. According to The Guardian, on September 23, 2011, the US Spending Bill was defeated in the Senate: "Senate majority leader Harry Reid says Bill, which was passed in the House of Representatives, does not provide enough aid relief."
How does this news involve JDVISIONS? JDVISIONS wants to do its part by creating good quality template products at reduced rates. JDVISIONS is the first website design and development company to introduce it's new solutions called "mini templates", in addition to full website templates.
JDVISIONS will sell Full Website templates for $50.00, Header templates with a menu for $30.00, and Menu templates for $25.00, providing what's needed without the extra cost.
It is not necessary to become a member of JDVISIONS in order to purchase any templates. Also, there are no shipping charges involved. After payment verification, an email will be sent including instructions on how to download the template.
JDVISIONS Creates Your Visions Online in its new and exciting website template designs and creations for the new generation of website design and developers.
###