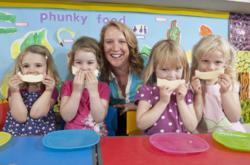 We believe we have developed an evidence-based, sustainable and achievable solution for healthy eating education at primary school level.
Harrogate, England (PRWEB UK) 20 October 2011
Purely Nutrition, whose PhunkyFoods healthy eating programme is now used in more than 1,000 primary schools, has been given a major accolade by the Royal Society for Public Health for its "trail blazing" and dynamic campaign against rising levels of obesity in children.
"Their foresight provides a leading example of contemporary public health strategy in action," says the citation for the Royal Society's 2011 Health Promotion and Community Well Being Organisation and Partnership Awards.
The aim of the awards is to recognise achievement in the development and implementation of health promotion and community well-being strategies and initiatives in support of the health promotion workforce.
Richard Parish, chief executive of the Royal Society for Public Health said: "This scheme was designed to demonstrate good practice in health promotion and it does just that. We are delighted to be associated with these local initiatives, they are examples for others to follow."
Harrogate-based Purely Nutrition introduced the PhunkyFoods programme seven years ago. It teaches children up to the age of 11 about healthy eating through fun activities, including drama, music, crafts and games.
"The organisation is ambitious within a three-year business plan which identifies objectives for PhunkyFoods to expand nationally and internationally and build capacity through a network of area led teachers," says the Royal Society.
"Purely Nutrition continues. to model new ways of working in partnership with commercial sponsors which act as an exemplar for 'Big Society' engagement. Their ambitions and strategy for this scaleable initiative are dynamic and not confined to the UK."
Dr Jennie Cockroft, director of nutrition at Purely Nutrition said: "We are absolutely delighted to receive this award and with it recognition for our work from such a respected body as the Royal Society for Public Health"
Warning that the UK was in the midst of an obesity epidemic, Dr Cockroft said it was vital that children from an early age gained a greater understanding of healthy eating.
"We believe we have developed an evidence-based, sustainable and achievable solution for healthy eating education at primary school level. Our vision is for all 16,971 primary schools in England to be running the programme by 2013."
The award will be presented by Lord Hunt at a reception at the House of Lords on November 8.
Notes: PhunkyFoods is, and always will be, an independent healthy lifestyles programme developed and written by registered nutritionists and consultant teachers. The editorial content of our programme, website and resources is completely independent of our consortium. This is ensured by utilising independent degree-qualified nutritionists and consultant teachers to write content, and through bi-annual meetings with the PhunkyFood's Steering Group comprising key child health figures and leading academics in the field.
However, the 2004 Government White Paper "Choosing Health" stated that the current obesity epidemic is the joint responsibility of government, food industry, schools and parents. At PhunkyFoods we understand the serious issues schools face regarding lack of funding, and we know that if we can approach the food industry to help with the research and development of the PhunkyFoods programme as part of their response to the obesity epidemic, then we can significantly lower the cost of our programme to schools.
###