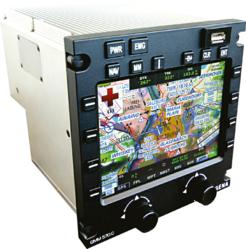 The heroic mission-critical specialist that are involved in these type of specialized operations deserve a system made exclusively for the dynamic or hostile environments they must work in.
Salzburg, Austria (PRWEB) October 05, 2011
GENA Systems announces the new product release of Sky Commander "World's 1st Mission-Critical Management System" (MCMS). The helicopter avionics system is the first to offer numerous technologies in one light-weight device. These advances work in harmony to streamline the flight director-pilot-crew team work flow during 911 calls or urgent flights. The purpose of Sky Commander is to provide a cost-efficient solution and help companies avoid navigation "miss-cues" and communication problems during time-sensitive flight operations where every second counts.
Until now, helicopter operators had to purchase an array of helicopter avionic products to get the functionality necessary to execute specialized flight missions such as air ambulatory, search & rescue, police, or cargo transportation. Now aviation departments can get an all-in-one system that features popular technologies such as: Flight Following, Moving Map with Jeppesen NavData, GPS Real-time tracking, Obstacle Management and Iridium 2-way satellite communication which enables reliable communication from any corner of the world.
Yet, what makes Sky Commander complimentary to the unique way mission-oriented companies work is features such as GENA Auto Flight Plan (AFP). This feature enables flight directors to increase helicopter "speed-to-target". With one click of a keyboard mouse all flight details including; emergency mission details, target address, extreme weather conditions, and any other mission details, can now be automatically transmitted in-flight directly to the helicopter cockpit. As new information becomes available the control center can continually transmit updates in real-time.
Also, until now, pilots would receive mission details and manually enter data into an electronic device. This time-consuming manual-entry method often resulted in key-entry errors causing miscommunications often leading to critical time delays. Pilots new to a regional area would arrive at a wrong destination due to entering wrong coordinates. GENA AFP eliminates this possibility because flight plans are keyed-in directly by the flight director and instantly transmitted to the pilot's Sky Commander moving map interface.
Chief Engineer & CEO of GENA Systems, Werner Gerold, who led the Sky Commander design team says his inspiration to focus on the critical mission-management niche grew because, "Worldwide we're experiencing a drastic increase in natural disasters and the heroic mission-critical specialist that are involved in these type of specialized operations deserve helicopter avionic systems made exclusively for the dynamic and hostile environments they must work in."
Werner Gerold, CEO & Chief Engineer, mentions the recent Tohoku earthquake that caused a tsunami disaster in Japan as a case in point. During the March 2011 natural disaster he heard horror stories where private agencies and government rescue helicopters could not save lives due to planning failures, miscommunication, and generally the inability to coordinate rescue operations expediently and effectively. And that's because each disaster relief organization operated autonomously which resulted in duplicated rescue efforts or missed opportunities to perform rescue operations.
To solve this problem CEO Werner Gerold engineered another Sky Commander feature called Consortium Management System (CMS). The first-of-kind feature allows for one flight director to quarterback the collaboration of multiple inter-organizational (ex: Red Cross, FEMA, CERT) relief efforts during natural disasters such as the Japanese tsunami in March 2011. With this feature a flight director can manage a large-scale operation through the use of GENA C2 (command & control), which is a Software-as-a-Service (SaaS) web-based aircraft management application. With one click of a mouse all flight details including current location of all airborne aircraft (in the CMS) flying anywhere in the world can be tracked in real-time.
CEO Werner Gerold engineered Sky Commander with mission-oriented companies and specialist in mind. He says, "One attribute I wanted to integrate was scalability. This allows operators to obtain the immediate benefits of our systems at a cost-effective pricing point, yet, allow operators to integrate more Sky Commander features as needed." To upgrade to the full management system, Sky Commander, no additional hardware is necessary. This drastically reduces the cost and installation labor.
About GENA SYSTEMS
GENA SYSTEMS manufactures helicopter avionics for the exclusive use of mission-oriented operations. The company, headquartered near Salzburg Airport in Salzburg, Austria, was founded in 2006 by a team of mission-oriented flight engineers and avionics specialist. The company has satellite offices in San Francisco, USA, and can be reach at: http://www.gena.a.
###