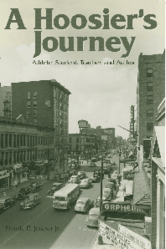 Growing up in the glory days of sports in Terre Haute, Indiana during the late '40s to early '60s forged a competitive spirit in Frank P. Jozsa Jr.
Tega Cay, SC (PRWEB) October 05, 2011
Growing up in the glory days of sports in Terre Haute, Indiana during the late '40s to early '60s forged a competitive spirit in Frank P. Jozsa Jr., born just months before Pearl Harbor. The city of 70,000 produced three Olympic athletes and All-America basketball players. In this new memoir, Jozsa relays how he and his pals thrived on sports, playing baseball, football, and basketball wherever they could find space and shooting hoops in his backyard. The author played high school basketball and baseball at Gerstmeyer High School under hall of famers Howard Sharpe and Bill Welch. At Indiana State Teachers College, he played baseball for another Indiana coaching legend, Paul Wolfe, and basketball for Duane Klueh. Eventually Jozsa – who played on championship baseball teams in the Babe Ruth League, Connie Mack League and American Legion – earned a tryout as a pitcher with the Pittsburg Pirates.
A Hoosier's Journey focuses on the how, when, where and why Jozsa succeeded on sports teams, developed as a student and persevered as an educator and author. Stints in the United States Air Force and at Ford Motor Company influenced his decision to continue schooling and earn an MBA, as well as a master's degree and a PhD in economics. His introduction as an author came after eight years of teaching at Pfeiffer University in Charlotte, N.C., with a book on professional sports teams moving and leagues' expanding because of market conditions. Besides running marathons, Jozsa continued to write about sports and teach until his retirement, as well as indulging in his passion for jogging and reading, activities he still enjoys.
Author Frank P. Jozsa Jr. has written articles and 10 books about the business, economics and operations of professional sports teams and their franchises. Jozsa, a former United States Air Force logistics officer and stationed in Saigon during the Vietnam War, taught full time for 35 years before retiring from Pfeiffer University in Charlotte, N.C. He lives in Tega City, S.C.
For more information, visit http://www.ahoosiersjourney.com
A HOOSIER'S JOURNEY: ATHLETE, STUDENT, TEACHER, AND AUTHOR
Frank P. Jozsa Jr.
Dog Ear Publishing
ISBN: 978-145750-512-6 156 pages $12.95 US
Available at Ingram, Amazon.com, Barnes & Noble
and fine bookstores everywhere
About Dog Ear Publishing, LLC
Dog Ear Publishing offers completely customized self-publishing services for independent authors. We provide cost-effective, fast, and highly profitable services to publish and distribute independently published books. Our book publishing and distribution services reach worldwide. Dog Ear authors retain all rights and complete creative control throughout the entire self-publishing process. Self-publishing services are available globally at http://www.dogearpublishing.net and from our offices in Indianapolis.
Dog Ear Publishing – self-publishing that actually makes sense.
###