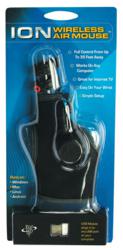 NEVER EVER GIVE UP !
Cocoa, Florida (PRWEB) October 06, 2011
A new company, Bellco Ventures, has introduced the first wireless air mouse glove, that allows users hands' to become the controller. Bellco, started up by founder Pete Bell, is hoping to find the new Ion Wireless Air Mouse glove on the hands of many computer and internet TV users.
Bellco Ventures has contracted with SYX Distribution Inc. (Systemax) the parent company to TigerDirect, CompUSA, and Circuit City and with the Ergoguys.com/Ingram Micro to sell the new product through their online systems. The Ion Wireless Air Mouse is being launched this month and is available online now at, http://www.ionwirelessairmouse.com and http://www.ergoguys.com.
With this new mouse, users can sit back and relax while controlling the cursor; no more stressing over the table mouse. Especially helpful for corporate presentations, educational lectures, gaming, and home entertainment systems the Ion Wireless Mouse provides a wide range of freedom for computer and internet TV owners. It has full control and mobile range from 35 feet away. Just plug in the USB module to any computer system, such as Windows, Mac, or Android, and your wireless mouse glove is mobile.
With the holidays approaching fast, the Ion Wireless Air Mouse is available to the public for $79.95. This mouse is not only for those technology savvy customers, but anyone who is looking for the comfort, convenience, and freedom that this mouse offers to users.
The company and background behind this new product is just as unique as the product itself. After 30 years of construction management, Bellco Ventures founder, Pete Bell, had to be change ready because in 2010 his world took a turn. His work slowed to very little and like many, ended up jobless. Beginning with his past experience of toying with new products, Bell began to search for something new and unique.
After a lot of searching, something caught Bell's eye and he acted on it. The idea of a computer mouse that you wear on your hand was the one thing that would give him the chance to start new. The freedom that this mouse would bring to the world of technology was a feature that Bell had never seen before.
After contacting the company, he was pleased to learn that he was the first to contact them about selling their new product. Bellco Ventures was born that day. After receiving samples of the mouse, the two companies began a business relationship they both wanted to pursue. Bell received the exclusive marketing rights and committed to the purchase of the first production run. This was a very large request because at the time there was no money, so with a lot of hope and trust in the product, Bell agreed.
After design changes and packaging, the Ion Wireless Air Mouse was ready. Bell was able to attract an investor to start up production and began the pursuit to sell the product. He contacted TigerDirect and with-in one hour received a call from the Product Manager. A week later they met and are now working on a marketing plan to launch the new Ion Wireless Air Mouse. Bell's hopes were elevated to say the least.
Next, Bell contacted The Ergo Guys about the product and now is under contract to sell the new air mouse glove through their mass marketing network. Bell continues to seek strategic partners to grow the company.
With this product underway, Bellco Ventures is now working with partners to launch the next generation of the air mouse glove, "The Gamer". This glove comes with all the bells and whistles for gaming and is due out for production later this year. Bellco also has interchangeable glove design options that will be available in the next generation of this wireless mouse glove to fit your favorite sports team, school, or color.
With the current job market conditions, it's nice to know that with a little vision and searching you can create a new job. Anything is possible, and just like they say , never give up.
For more information on the Ion Wireless Air Mouse and Bellco Ventures opportunities, visit http://www.ionwirelessairmouse.com.
###