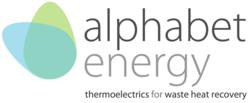 Robert C. MacFarlane: "Waste heat is an important national energy resource, and Alphabet Energy's technology offers the potential to capture and harness it for power generation."
San Francisco, CA (PRWEB) October 18, 2011
Alphabet Energy Inc., maker of thermoelectric materials for waste-heat recovery, has named Robert C. McFarlane as a strategic advisor. Mr. McFarlane, a recognized authority on the importance of energy security to a nation's political and economic stability, has championed the development of renewable and alternate energy sources as viable competitors to petroleum, which today powers 97 percent of all air, sea land and transportation in the United States. He also sits on the board of advisors of the American Council on Renewable Energy (ACORE) and the Myriant Corporation, a Boston-based bio-chemical company.
"Energy is fundamental to the growth of all nations, from developing countries to the United States, so it's essential that we develop technologies to enable us to use it more efficiently," said Robert C. MacFarlane. "Waste heat is an important national energy resource, and Alphabet Energy's technology offers the potential to capture and harness it for power generation. This has applications in both industrial settings domestically, and can provide developing countries with the means to achieve greater energy security."
After a distinguished career of public service that culminated in his appointment to President Ronald Reagan's cabinet as his National Security Advisor, Mr. McFarlane founded his own energy development company, Global Energy Investors LLC, and sponsored major international power projects in Brazil, Pakistan, the Philippines, and China. He has also served as a consultant to foreign governments on energy, infrastructure, and privatization policies. Apart from his business activities, Mr. McFarlane remains a respected figure in international affairs. Most recently, Mr. McFarlane was instrumental in the formation of the United States Energy Security Council, a bipartisan group of former cabinet officers, senators, corporate CEOs, a Nobel Laureate, and retired military personnel. It aims to raise public understanding of the risks inherent when the country restricts all air, sea, and land transportation to a single fuel—oil—whose price is set by a foreign cartel.
"Mr. McFarlane will bring a level of international insight that is rare, and we look forward to working with him in continuing to raise the awareness governments throughout the world of the potential inherent in waste-heat recovery," said Adam Lorimer, Alphabet's VP of engineering, who has led several successful government grant and contract applications for the company.
Alphabet Energy's first product, currently in prototyping, is a simple, turnkey solution for the generation of electricity from waste heat. Alphabet's goal is to become the leader in the potential $100 billion global market for products that convert medium- to high-grade waste heat into electricity, now part of an existing $75 billion/year market for energy efficiency and a $6 billion/year market for industrial equipment. In the near term, the company is planning to deliver waste-heat-to-electricity generators that utilize exhaust gas as an energy source.
What are thermoelectrics?
Thermoelectric materials are semiconductors that, when placed in a temperature gradient, generate electricity in the solid state—like solar panels for heat. Alphabet's breakthrough thermoelectrics can be used to turn heat directly into electricity in applications such as metals refining, cement and glass production, power generation, automotive, aerospace, and military operations. The company's proprietary, all-silicon thermoelectric technology is currently the sole approach coming to market that can lend itself to massive scale, utilizing abundant materials and existing, inexpensive manufacturing know-how. The output range of power generation from Alphabet's products can be from microwatts to megawatts.
About Alphabet Energy Inc.
Alphabet Energy is commercializing breakthrough, inexpensive waste-heat recovery products based on technology developed at the Lawrence Berkeley National Laboratory. Alphabet aims to offer the most modular and scalable heat-recovery technology available, and to tap into the potential $100 billion market for the conversion of medium- and high-grade waste heat into electricity — offsetting as many as 500 million metric tons of carbon per year. Alphabet Energy won four awards at the 2009 Cleantech Open business competition: runner-up, National Prize; winner, National People's Choice Award; winner, California region Energy-Efficiency Prize; winner, California region Sustainability Prize. For more information, see http://www.alphabetenergy.com and @alphabetenergy on Twitter.
###