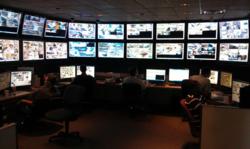 "We arrested three bad guys on one rooftop on two separate nights!"
- Property Manager
San Antonio, Texas (PRWEB) October 06, 2011
Stealth Monitoring "Stealth" catches or runs off criminals every week by proactively watching surveillance cameras when the tenants are closed at night. Stealth will be exhibiting at the International Council of Shopping Centers "ICSC" in San Antonio, Texas Nov 2-4th, 2011 for the annual Deal Making event. Located at Booth #802, Stealth will share information for landlords, property managers, and retailers regarding the latest cost-effective strategies to reduce expenses and improve safety at commercial properties. Stealth has thousands of cameras being proactively watched every night from its control centers. Stealth has many satisfied references in the industry and looks forward to teaching property managers and owners about the latest security technologies that have led to significant monetary savings and happier tenants.
Copper theft, HVAC vandalism, and other property damage are the biggest risks that can lead to the largest losses for commercial property. Landlords and tenants often share responsibility for certain losses and insurance premiums can rise after one incident. Not to mention the client's responsibility for the deductible and downtime during non-operational business hours. Insurance providers may not insure you if you have multiple claims. Stealth proactively watches cameras on the exterior of a property often catching criminals before damage has occurred.
If you have ever been a victim of thousands of dollars of copper theft, you should be calling Stealth at 1-855-STEALTH (783-2584) right now to request a quote. Retailers and tenants also have additional concerns and liabilities that can be minimized by an advanced surveillance system. Stealth can help retailers save money by decreasing internal theft, shrinkage, potential lawsuits, and much more. Your employees and vendors are proven to be more productive when they know they are on camera. Management can watch properties or stores remotely from a home computer or mobile smart phone.
Stealth Monitoring uses their relationships with local police departments to report crime situations and work together with police to arrest and prosecute criminals. Installing the newest Stealth Monitoring technologies can reduce the hassle and frustration of a crime before damage occurs since Stealth proactively monitors cameras without waiting for an event or alarm. The police respond quicker to the dispatch as Stealth can now share the video evidence with them in real time.
Feel free to ask Stealth about the many commercial real estate companies like Weitzman/Cencor that use Stealth Monitoring's services. Stealth has caught numerous criminals on the rooftops of many commercial real estate properties and has formed a mutually beneficial relationship with property managers and landlords to protect their property.
Visit Stealth Monitoring at Booth #802 November 2-4, 2011 at the International Council of Shopping Centers conference in San Antonio, TX and let them "arm" you with the latest information on reducing property damage. Click the video on the right or see the video's page on the Stealth website to watch actual success videos. Visit us online at http://www.stealthmonitoring.com or call us for more information at 1-855-STEALTH (783-2584).
###