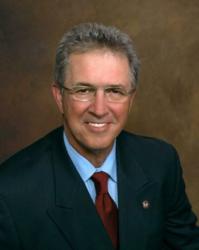 I think endometriosis can play a role in infertility, but it's not the primary role,
Atlanta, GA (PRWEB) October 05, 2011
The Center for Women's Care & Reproductive Surgery and medical director Thomas L. Lyons, MD, are featured by CBS-Atlanta for his groundbreaking work with endometriosis and fibroids. Patient Kate Melioris' dreams of family were preserved by Dr. Lyons' surgical excision of endo, and removal of fibroids and adhesions (scar tissue) when other doctors had told her she'd never conceive. Dr. Lyons is currently conducting two studies: prevention of adhesions, and visualizing endometriosis more effectively using Olympus technology.
In 2004 when Kate was 37, she spent two to three weeks of each month in pain, curled up in a ball, trying to get out of bed. Her health problems involved severe Stage IV endometriosis, as well as adhesions, and two golf ball sized fibroid tumors in her uterus.
An Internet search led her to laparoscopic endo excision specialist Dr. Tom Lyons, whose first question to any patient who also has fibroids is always, "What are your intentions about pregnancy?" He explains that it's not uncommon to find endometriosis and fibroids in the same patients. Neither disease has a known cause. Both involve pelvic pain.
Although Kate and her husband were only dating at the time, her vision definitely included marriage and children. Other doctors had told her she'd never have children, but Dr. Lyons' own track record with seeming "hopeless cases" spoke otherwise.
Rather than hysterectomy, Dr. Lyons performed a myomectomy to remove Kate's fibroids, surgical excision (removal of the endometriosis below its root), and removal of the adhesions, all done through tiny incisions that got her back into her active life fast.
"When I woke up from surgery in 2004 I already felt 98% better," said Kate, who is Educational Program Manager for St. Joseph's Translational Research Institute.
"If I'd had any idea of how easy it would be, I never would have stayed in pain for so long. I tell any of my friends who are in pain, 'FIND someone to take care of it!' Of course I recommend Dr. Lyons," she said.
"Kate's case required aggressive surgical excision, but we preserved one ovary, the fallopian tubes and uterus," said Dr. Lyons, of the Center for Women's Care & Reproductive Surgery. He is one of the few GYNs in the U.S. who performs surgical excision, rather than merely lasering off the surface of the disease.
Surgical excision involves cutting out the roots of the disease, much deeper than lasering off the surface. Surface ablation can enable it to grow back quickly, just like weeds that have been mowed. According to Dr. Lyons, many patients have had four or five laser treatments, which can create scarring over the area—and an even larger problem. However, after a thorough surgical excision, they may be pain free for several years.
Dr. Lyons explained that the procedure is done through tiny incisions, using minimally invasive surgery, thus less visible scarring on the abdomen. The patient's pain may be alleviated immediately. "Often we find them at the mall the next day," he laughed.
Two Children Later…Kate Opted for LSH
Kate married, gave birth to a daughter and son, and several years later felt the familiar pelvic pain of endometriosis. The disease occurs when endometrial tissue, the tissue that lines the uterus and is shed during menstruation, grows outside the uterus.
"I think endometriosis can play a role in infertility, but it's not the primary role," said Dr. Lyons, co-author of What to Do When the Doctor Says It's Endometriosis or Fibroids: Everything You Need to Know to Stop the Pain and Heal Your Fertility (Fair Winds Press).
In July, 2010, Kate came back to Dr. Lyons for a Laparoscopic Supracervical Hysterectomy, a procedure he developed in 1989, which keeps the cervix in place as a keystone support for the female anatomy. He has trained hundreds of surgeons around the world on his LSH technique.
Kate had her surgery performed on a Thursday and was back to work on the following Monday. Within two weeks she took her kids on vacation in Florida.
"I knew Dr. Lyons was good; I felt very comfortable with him because he's so low-keyed. Most surgeons act like rock stars –all ego—and he's not like that at all. He cared about what I was feeling, but he's not over-the-top emotional about it. Right after the first procedure he performed in 2004, he gave me a video of the surgery and I knew: Here is a man who is confident in what he's doing!" said Kate.
Dr. Lyons, who has been treating women with endometriosis, pelvic pain and infertility issues for more than 25 years, says that communication with your doctor is key.
"Although there is no cure, treatment options abound. There are many possibilities for pain relief. A careful assessment of your unique symptoms along with a physical exam should point the way for your doctor to help improve your quality of life. Be responsible for getting the treatment you desire. You and your loved ones all will benefit," he said.
Patients seek out Dr. Lyons from around the world for the advanced gynecological procedures he has developed, including the laparoscopic supracervical hysterectomy and the laparoscopic Burch procedure for urinary stress incontinence. He also trains surgeons worldwide in these procedures.
Contact Dr. Lyons at 770-352-0037 or toll-free 888-545-0400.
###