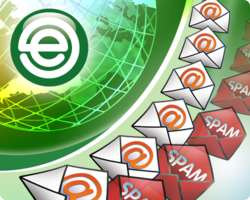 It's anti-spam, not anti-business
(PRWEB UK) 4 October 2011
Primitive anti-spam software can hurt businesses by discarding clients' messages, say industry veterans Exclaimer and Commtouch, who are launching the first 'pro-business' stand-alone anti-spam.
'Losing real mail is often more damaging and irritating than the spam these filters are meant to prevent' explains Louise Hunter, Commercial Communications Expert. 'By hiding or destroying vital information, content-focused options can wreak havoc with a business – and users may not realize it until it's too late.'
Exclaimer and Commtouch wanted to create software that blocked spam, without blocking real mail – but they needed a completely different detection method.
Ignore word-filters, analyze email traffic and block spam based on the way it's been sent – from multiple unrelated senders, like spammers, to unwitting readers: like us.
Exclaimer Anti-spam, using the Commtouch Recurrent Pattern Detection engine, does exactly that.
The RPD engine looks at millions of messages sent worldwide, and examines the path of mail – where it's from, where it's going and other details.
It stops mail that has identical sections of data but totally unconnected senders – spammers can change the words they use, but they can't conceal the flow of spam.
So even if spammers use multiple addresses, randomize email sections and avoid commonly blocked words – RPD still spots the patterns in spam traffic, in any language and even in images.
But keeping genuine mail safe, while still blocking spam, is the real feat.
Real mail isn't sent like spam, so while content filtering or language analysis can be confused by a typo, legitimate mail won't look suspicious.
Exclaimer's CEO, Andrew Millington explained, 'Spam-filters should keep spam from wasting my time – not waste more of it by losing real mail. We look at email traffic globally, so it's obvious that a contact's unique email isn't spam and the 2 million near-duplicate messages are. It's anti-spam, not anti-business.'
Eyal Orgil, Commtouch Marketing Director warned, 'Spam is changing. Older methods won't cope with more sophisticated deception techniques. But because the Recurrent Pattern Detection engine blocks mail based on its context, not its content, it isn't fooled by language generation and content-mimicry. To our software, it doesn't matter how smart spam gets – it's still spam.'
###