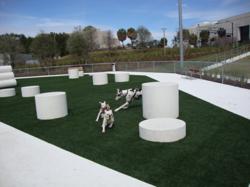 For an extremely high use urban dog park such as ours, the Friends of Schuylkill River Park and the Design Concept Team believe K9Grass is the best and safest surface available.
Albuquerque, NM (PRWEB) October 11, 2011
The City of Philadelphia Parks and Recreation Department issued an open letter to users of Schuylkill River Park recently about their decision to install K9Grass, an artificial grass designed for dogs, in the park's dog run. The dog park surfacing product was recommended for the park by the project's Design Concept Team, which includes citizen representatives from the Friends of Schuylkill River Park, Schuylkill River Park Alliance, and Center City Residents Association.
A few residents raised concerns about the synthetic grass surface, claiming issues of safety and suitability for the project, but Commissioner Michael DiBerardinis provided overwhelming evidence in support of using K9Grass for the dog park in the open letter he issued. The letter was written to clarify "misinformation about K9Grass and how it was selected."
A statement issued by the Friends of Schuylkill River Park Board of Directors said, "For an extremely high use urban dog park such as ours, the Friends of Schuylkill River Park and the Design Concept Team believe K9Grass is the best and safest surface available. We are very excited to see this surface in the new Schuylkill River Park Dog Run."
K9Grass is an artificial grass product by ForeverLawn, the leading artificial grass company. "Our goal at ForeverLawn is creating environments that improve the health and welfare of people and their pets. We take safety very seriously, and we are proud to be a leader in the industry by offering a uniquely pet-friendly and pet-safe surface option in K9Grass," said K9Grass Brand Manager Ken Karmie.
First introduced in 2005, K9Grass has become a respected surfacing product in the pet care industry. Due to several unique features engineered into the turf, K9Grass addresses the challenges present in pet environments more effectively than other artificial grass products or surfacing choices such as natural grass, wood chips, or concrete. To promote a cleaner, safer environment for pets, an antimicrobial agent approved for use in children's products and food preparation is manufactured into the grass blades. K9Grass also features a unique knitted backing for efficient drainage of liquid pet waste, and dense construction for easy identification and removal of solid waste, making K9Grass a great choice for dog parks, pet facilities, and even backyards.
More than 1.4 million square feet of K9Grass has been installed throughout the country in pet facilities, dog parks, and homes, including Nestle-Purina, Best Friends Pet Care at Walt Disney World, Morris Animal Inn in Morristown, N.J., Curtis-Hixon Dog Park in Tampa, Fla., and Wagsworth Manor Pet Resort in Malvern, Pa., to name a few. One of the first large-scale K9Grass projects completed in 2006 was the Saratoga Creek Dog Park, a 14,000-square-foot dog park in San Jose, Calif., that is still enjoyed today by local pets and their families. After the success of the Saratoga Creek Dog Park, a number of California parks followed suit, including Los Gatos Creek Dog Park in 2008 and the 40,000-square-foot Central Park Dog Park in Freemont, Calif., which was installed in 2010.
ForeverLawn has compiled a library of safety information on their products, which can be found on their website. A copy of the City of Philadelphia's open letter can also be viewed on the site.
About ForeverLawn®
ForeverLawn® provides innovative synthetic grass products to create better landscapes worldwide. In areas where real grass is difficult to grow or maintain—due to high traffic or poor conditions—ForeverLawn® offers a natural-looking alternative that is beautiful, functional, and durable. In addition to its landscape lines, ForeverLawn also offers specialty products including SplashGrass, K9Grass, SportsGrass, Playground Grass, and GolfGreens. ForeverLawn®—Grass without limits. http://www.foreverlawn.com.
###