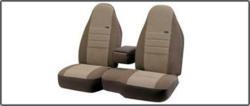 Vehicle customization is a fun and affordable way to make your car into the ride that you want
Winnipeg, Manitoba (PRWEB) October 31, 2011
With the tough times that we live in, buying a brand new car can often be a difficult financial undertaking. That's why Fia agrees with Steve Meade of SPEED's Two Guys Garage, who recently said that "customization is a great way to put your personal stamp on a vehicle".
"We feel that accessories such as our seat covers provide vehicle owners with the ability to not only make their vehicles feel new again, but also to ensure they will be useful for many years to come," said Fia's CEO Irv Applebaum. "Vehicle customization is a fun and affordable way to make your car into the ride that you want."
If you agree with Steve Meade that vehicle customization is the way to go for your vehicle, Fia might have what you're looking for. Offering a wide variety of custom-fit seat covers for trucks and cars, their products are great for extending the life of your vehicle.
More information on Fia's products can be found at their website: http://www.gofia.com
###