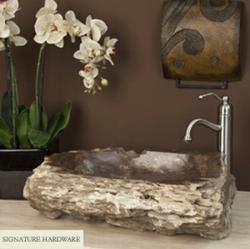 Each of the new Whittington Collection vessel sinks is handcrafted from petrified wood and feature natural variations in coloration and texture.
Erlanger, Kentucky (PRWEB) October 01, 2011
Continuing to offer unique and high-quality bathroom products, Signature Hardware has added a new line of petrified wood vessel sinks to its already extensive line of bathroom basins. Each of the new Whittington Collection vessel sinks is handcrafted from petrified wood and features natural variations in coloration and texture.
All petrified wood sinks feature a polished interior showcasing color variations from beige to black with red, brown and other highlights. This polished interior makes petrified wood sinks easy to maintain by cleaning regularly with a granite and marble cleaner and sealing with a stone sealant. The shape and exterior of each sink is unique to the shape and size of the original geological formation. Signature Hardware leaves the exterior in its natural state to allow the beauty of the fossilized wood to shine through.
Petrified wood occurs in nature all over the planet, and while some pieces can be thousands or even millions of years old, the fossilization process can take less than a hundred years to complete. Signature Hardware petrified wood sinks come from the Indonesian island of Java, where petrified wood is plentiful because of the nearly perfect pairing of active volcanoes and ancient, dense forests.
Wood becomes petrified, turning into solid stone, through a specific type of fossilization where water and sediment flows through a decomposing tree. This fossilization replaces all organic materials with minerals while retaining the original structure, so details such as tree rings, scales and striations remain. This process ensures that no two sinks are alike. Each will vary in size, color, shape and detailing. For more information on this fossilization process, consumers can visit Signature Hardware's information page.
Because every sink is unique, once the sink is sold, there will never be another one exactly like the first. Photos of each individual sink are featured on the website so homeowners can see the details of the exact sink they are purchasing. Customers are invited to view available fossilized sinks on Signature Hardware's website.
Stylish single-hole tall vessel fillers and wall-mount lavatory faucets make excellent companion pieces for these wood vessel sinks. The faucets are made from high-quality brass materials and are available in several finishes. These sinks would look great on many of the company's Milforde Collection bathroom vanity cabinets. These items and more can be seen online at the company's website, http://www.signaturehardware.com, or in the company's full color catalog. Customers are invited to order a free catalog by calling customer service toll free at 1-866-855-2284.
About Signature Hardware
Signature Hardware is a direct merchant of antique-style reproduction fixtures for the home. Working directly with the factory and selling direct to the end consumer, they are able to provide superior service and exceptional value. The firm distributes its products nationwide, and sells direct to the consumer by the use of print catalogs, its retail showroom located in the Cincinnati area, and online.
Contact Information
Signature Hardware
866-855-2284, Ext. 161
media(at)signaturehardware(dot)com
(High-resolution images available; interviews granted upon request.)
###