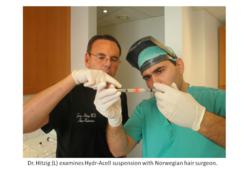 I've been researching ACell as a wound healing and hair restoration application for several years and have seen impressive results that have gained a lot of attention from hair restoration specialists from around the world.
New York, NY (PRWEB) October 03, 2011
Gary Hitzig, M.D., a leading U.S. hair restoration specialist and pioneer of the ACell / platelet rich plasma (PRP) injections, was invited by the Poseidon Hair Clinic (sanctioned by the Norwegian government) in Oslo, Norway to participate in an international study on ACell Matristem and its ability to regenerate hair and improve wound healing. Dr. Hitzig, who practices at Prasad Cosmetic Surgery in New York City and Long Island, has been sought after by many researchers to expand on his groundbreaking ACell research.
In late August, Dr. Hitzig began an ACell study with the Poseidon Hair Clinic, an international hair restoration group with offices throughout Europe. The purpose of the study is to determine the effectiveness of ACell/PRP injections for hair loss compared to the traditional follicular unit extraction (FUE) hair transplant. Patients who received the ACell/PRP injections and patients who had an FUE hair transplant will be evaluated every three months for a year to determine differences in donor area hair re-growth, healing and hair duplication in the recipient areas.
As part of the study, Dr. Hitzig introduced Hydr-ACell, a new aqueous based solution developed by Hitzig and cosmetic surgeon Dr. Amiya Prasad. Hydr-ACell offers a more effective means to deliver topical ACell to wounds and transplanted follicular unit grafts. The unique application process allows doctors to evenly apply ACell to the open FUE wounds and protect FUE grafts in scar tissue. As part of this study, Hydr-ACell will also be studied for its topical value in healing.
Dr. Hitzig's trip to Norway was funded by the Scandinavian Clinics to help further the research needed to expand ACell use in Europe, which is currently only available in the United States. The study was supervised and regulated by the Norwegian Government's medical board.
"The purpose of this study in Norway was to allow the doctors at the Poseidon Hair Clinic and the Norwegian medical board to personally see the results of using ACell/ PRP to regenerate hair," said Dr. Hitzig. "I've been researching ACell as a wound healing and hair restoration application for several years and have seen impressive results that have gained a lot of attention from hair restoration specialists from around the world. It was a pleasure to bring this research to Norway and work with this group of talented doctors."
Last spring, Dr. Hitzig also trained doctors at The Private Clinic, the largest U.K. cosmetic practice, in the use of ACell-PRP injections. This was the first medical practice outside of the U.S. to receive training in the use of ACell in hair restoration.
MatriStem MicroMatrix, a product of regenerative medicine innovator, ACell, Inc., is a wound healing powder that promotes healing and tissue growth. Dr. Hitzig has spent years researching and proving that when MatriStem MicroMatrix is combined with PRP, it can help to both prevent and regenerate hair in men and women experiencing genetic hair loss.
Hitzig discovered that if you dissolve the MatriStem powder in a specialized blood serum rich in the patient's adult stem cells and inject it into the scalp, the combination acts like a hair growth accelerator. Many hair transplant patients experienced significant hair re-growth sooner and the wound where donor hair had been taken and transplanted was completely healed with little or no signs of a scarring.
About Gary Hitzig, M.D.
Dr. Gary Hitzig is a board-certified hair restoration surgeon based in New York City and was one of the first medical doctors to develop a technique to successfully clone hair. His research in ACell is sought after by doctors around the world. He also developed and patented the Hitzig Linear Punch, a collection of extremely sharp disposable surgical punches that make narrow elliptical slots, which are sold to surgeons around the world. Dr. Hitzig has published numerous peer review articles on hair transplant techniques and is a regular presenter at medical hair restoration symposiums around the world. He is also the author of Help and Hope for Hair Loss published by Avon. Dr. Hitzig is a member of the American Society of Dermatological Surgery, International Society of Hair Restoration Surgery (ISHRS) and the American Hair Loss Council. He recently merged his practice with Prasad Cosmetic Surgery. Visit http://www.nyhairloss.com.
###