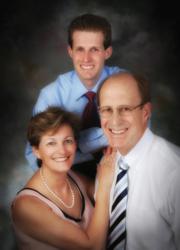 Fort Myers, FL (PRWEB) October 05, 2011
Cosmetic dentists Dr. James Mitchell, Dr. Yolanda Mitchell, and Dr. Joseph Mitchell of Mitchell Dentistry have announced the launch of a new, patient-focused website. The practice recently launched the new website created by dental website design leader, ProSites, Inc. The website contains many interactive features including educational videos and photo galleries that help patients make better informed decisions about their oral health. The website also utilizes extensive search engine optimization techniques to reach patients and local consumers who are searching for relevant information about Fort Myers cosmetic dentistry services.
Current and prospective patients now have access to information about providers, educational videos, before and after photos of dental procedures, and other informative content when they visit the website. Some of Mitchell Dentistry's services include:
Cosmetic Dentistry
Dental Implants
Laser Therapy
Invisalign
Mitchell Dentistry is also utilizing their website to educate the community on the importance of oral health. The website includes a links page with informative resources as well as a frequently asked questions page with topics ranging from oral hygiene to dental procedures.
About Mitchell Dentistry:
Dr. James Mitchell and Dr. Yolanda Mitchell have both been practicing dentistry for over 25 years. They met during their time at Emory University School of Dentistry in Atlanta, Georgia and were married. One of their three children followed in his parents' footsteps; their son Joe grew up to pursue a career in dentistry. Dr. Joseph Mitchell joined his parent's practice in 2008 and together this family of dentists provides cosmetic and restorative dentistry including dental implants in Ft. Myers, FL. For more information about Mitchell Dentistry please visit their website mitchelldentist.com.
###