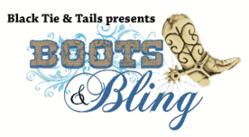 Harrisburg, PA (PRWEB) October 02, 2011
New for 2011, Black Tie & Tails presents Boots & Bling, a western-themed gala for guests and their dogs. Guests are invited to don their boots and cowboy hats and join Susquehanna Service Dogs at the Holiday Inn in Grantville on Sunday, November 13 from 4:30 p.m. to 9:30 p.m.
The evening's roundup includes a reception, live music by The Waves, dinner, dancing and live and silent auctions. Flora Posteraro from WHTM 27 will be the hostess for the evening.
Susquehanna Service Dogs encourages guests to bring their dogs dressed to impress in their western or formal wear. Dogs and their owners will also have the opportunity to enter their dogs in the "Blinged Out Bandana Contest." Dogs wearing bandanas with bling or other decorations will be eligible for the contest. The winner will be decided by audience applause and will receive a ribbon.
All dogs must be on lead at all times. There will be experienced volunteers to pet sit canine guests while their owners dance.
Guests should RSVP by November 4. Tickets cost $100 per person or $150 per patron. All dogs are free! Each couple is invited to bring one canine guest. To purchase tickets, visit http://www.keystonehumanservices.org or call 717-232-7509. All proceeds benefit Susquehanna Service Dogs.
Susquehanna Service Dogs raises and trains service and hearing dogs to assist children and adults with disabilities to become more independent. Since 1993, SSD has placed over 190 dogs with children and adults throughout Central Pennsylvania and beyond.
For more information about Susquehanna Service Dogs and Keystone Human Services, visit http://www.keystonehumanservices.org.
###