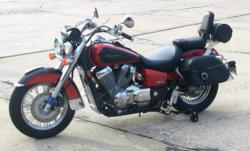 Chopper Design to continually adding new models to its lineup
Longwood, FL (PRWEB) October 03, 2011
LegUp LandinGear, a division of Chopper Design Services, has announced the LegUp LandinGear Motorcycle Stabilization System has been adapted to Honda Shadow Cruiser bikes. The computerized LandinGear system helps riders balance their motorcycles when stopping, pulling away from a stop or maneuvering slowly.
Sometimes called 'The Perfect Trike Alternative', the LegUp system been available for Harley-Davidson Touring Bikes, Honda Goldwings and other bike models since early 2009. The high demand for this innovative device since then has caused Chopper Design to continually add new models to its lineup. This computerized system deploys a small set of wheels as the motorcycle slows, and retracts the same upon acceleration. These small retractable wheels help support the vehicle at slow speeds.
LegUp LandinGear constantly receives requests by owners of various models desiring help with their bikes. The Honda Shadow models have had the highest demand recently, the company says, and started the engineering process in early June. LegUp is proud to report the adaptation is now complete, and availability is immediate. Pricing is the same as similar models.
For more information about LegUp LandinGear please visit LandinGear.com or call 407-834-5007.
# # #