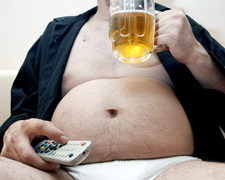 London (PRWEB UK) 4 October 2011
Statistics from the most recent HSE report reveal over 60% of people in the UK aged 16+ are overweight or seriously overweight indicating the government still has much ground to cover in order to win the war on obesity. Data from the Deaprtment of Health website points toward a steady incline in childhood and adult obesity rates, foreseeing that by 2012 almost 13 million people will be clinically diagnosed as obese.
Only in America is the condition worse with one-third of the general population now classified as obese. Possibly the most iconic figure that best mirrors this epidemic is seen in the Simpsons, the longest-running animated series to date.
The central figure of the show and all-American dad, Homer Simpson, cannily encapsulates undesirable traits that people both sides of the Atlantic can relate to, the most obvious being a weight problem that is seen to increase each season.
In an early season Homer weighted 239lb, and then in later show he was seen to hit the scales at 241lb. The pattern between age and body mass remained true when in Season 2 episode 18 entitled "A brush with greatness" he weighted in at 260lb. The most Homer has ever weighted was 315lb in the recent episode titled "King Sized Homer." Each episode brought to light the health dangers of being severely overweight, including heart problems and stroke.
Body mass index is the preferred reading used by healthcare professionals to identify how healthy a person is, as it's more accurate to recommend a weight range, rather than a specific weight for a given height. By taking Homer's weight as a yardstick it's suggested that he, like the average man or woman, is at risk of developing long-term illnesses.
It's not only public health that is dented by obesity. Foresight, the HSE report estimated that weight problems already cost the wider economy in the region of £16 billion, which may well rise to £50 billion per year by 2050 if no immediate action is taken.
# # #