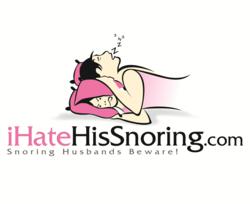 Aliso Viejo, CA (PRWEB) October 04, 2011
For generations, women have tossed and turned in bed at night as snoring men sleep peacefully by their sides. As evidenced by the never-ending battles over dishes and toilet seats, women have few options to effectively deal with men's annoying habits. At last, Sleep Pretty in Pink has created iHateHisSnoring.com, an outlet for tired women to vent their frustration with snoring.
"As the creators of the top-selling women's ear plugs in the U.S., we have been in the ideal position to gather personal stories from women disturbed by snoring men," notes Doug Pick, founder of Sleep Pretty in Pink. "Years of feedback about how our product saved marriages and improved lives allowed us to understand women's extreme aggravation with snoring husbands. We created iHateHisSnoring.com for women who, more than anything, want a night of peace."
iHateHisSnoring.com hosts a unique, interactive video starring "Mrs. Pink." Mrs. Pink finds herself kept up at night by her husband's disruptive snoring. After endless tossing and turning, a fed up Mrs. Pink moves to end her plight. Interactive elements come into play as the user chooses Mrs. Pink's next step, with options ranging from playful to evil.
"We knew we were onto something when we shared the video with an audience. Male viewers cringed, while women laughed with delight," says Pick. "We are excited to offer this irreverent but fun entertainment experience to our customers and fans."
To guide Mrs. Pink along her vengeful adventure visit iHateHisSnoring.com.
About Sleep Pretty in Pink Ear Plugs
Sleep Pretty in Pink ear plug brands of high quality ear plugs are trusted by consumers around the globe. As the number one selling ear plug for women, in the food, drug and mass retail categories, Sleep Pretty in Pink are available at every major retailer including Walmart, Target, Rite Aid and Duane Reade. Go to http://www.HEAROS.com/sleepprettyinpink for more information.
###