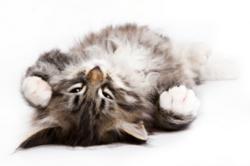 We've created an option that protects the environment and saves money. Our company loves cats and we try our best to show that compassion in our products.
(PRWEB) October 04, 2011
A movement for sustainability and environmental awareness has swept the nation, creating urgency and pressure on entrepreneurs to release products that are nature friendly but still of good quality. Envirokats, a company for cats, has committed to the green movement with the release of their 100% recycled and reusable, rubber-based cat litter. Based in the Phoenix area, Envirokats has spread the news about sustainable cat litter around the world, working with clients across the United States, Canada, and England.
Envirokats creator, John King, remains diligent in his campaign to inform pet owners of the environmental concerns caused by popular cat litters. "Many people don't realize the problems caused by traditional litters," states King. "We want to inform people of these hazards and provide them with a greener solution. Plus, everyone is looking to save money right now – we can do that too!"
The majority of cat litter sold in the United States is manufactured with clay, specifically sodium bentonite. This "clumping" cat litter accounts for 60% of cat litter sales and has been used since the 1980s. The material used in clay litter must be strip mined, a process which extracts naturally occurring minerals from the environment. According to a 2010 report in Science, strip mining has caused several environmental issues including permanent loss of ecosystems, the destruction of large forested areas, and an overall reduction of biodiversity. After it is extracted, the clay must then be transported to a facility where it is dried and processed into litter. The United States Geological Society estimates that clay-based litter accounts for 85% of the 2.54 million tons of clay used every year for the disposal of pet waste. Millions of tons of clay must not only be mined, but also transported and processed at a manufacturing plant – one can see how an operation of this magnitude could leave a sizeable impact upon the environment.
John King, owner of Envirokats, recognized this issue a few years ago. John was seeking out a way to recycle used tires which are extremely plentiful (300 million in the US each year!) and also incredibly harsh on the environment, especially when they are burned during the creation of "Tire Derived Fuel" and release led along with several carcinogens.
Searching for a useful application, John analyzed the ground material from tires used in rubberized asphalt. He realized that the substance contained carbon and absorbed odors. A faithful cat lover, John realized that the ground tires could be used a substitute for traditional clay-based cat litter. Read more about John King and the development of the Envirokats System in this article (http://www.azcentral.com/news/articles/2010/12/17/20101217ahwatukee-man-used-tires-cat-litter-idea.html) on azcentral.com.
The tire grounds serve as a reusable litter that absorbs odor and may be rinsed. Any solids are scooped much like traditional cat litter. The litter pan operates as a double-box system – the lower box serves as a drainage hold for rinsing purposed. To clean the litter of liquid waste, the tire grounds are simply rinsed with water that runs into the lower box and out through the drain. In between cleaning, most liquid accumulates in the lower box, creating an effective odor seal.
This 100% recycled and 100% reusable innovation not only allows owners to be proactive about the environment but can also save a great deal of money on the litter bill. "We've created an option that protects the environment and saves money. Our company loves cats and we try our best to show that compassion in our products."
If you are interested in purchasing Envirokats reusable cat litter, inquiring about fundraising using Envirokats products, or learning more about the system, visit http://www.envirokats.com or email the inventor John King at jking@envirokats.com.
###