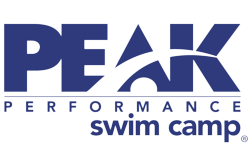 "An elite level swimmer possesses the mental prowess to remain focused, the technical expertise to maintain near-perfect form, and the physical fitness to go the distance."
-- Coach Baker
Orlando, FL (PRWEB) October 04, 2011
WHAT:

Clinic features highlights from the popular, week-long camp to help swimmers sharpen their short course season training
Holistic training approach conditions the whole swimmer - mentally, technically and physically
Coach Baker's signature Swim Positive philosophy
Partnership with Nike / U.S. Sports Camps
Low swimmer / coach ratio (9:1)
Enjoys 75% plus rate of repeat campers hailing from around the globe
WHEN:
October 29-30, 2011
WHERE:
Greenwich Family Y
50 East Putnam Avenue
Greenwich, CT
REGISTRATION:
http://www.swimcamp.com
877.308.PEAK (7325)
About Peak Performance Swim Camp
A touring, year-round camp, Peak Performance Swim Camp prides itself in providing a holistic training approach for kids ages 8-18. Based in Orlando, Fla., camp founder, author and former Olympic coach, Nick Baker, emphasizes his Swimming Triangle (mental, technical and physical) and Swim Positive philosophies at each camp. With low swimmer / coach ratios ranging from 6:1 – 9:1, Peak Performance features distinctive camps for competitive swimmers, from elite to junior level. Peak Performance is a Nike / U.S. Sports Camps partner. Private instruction is also available. For information, visit http://www.swimcamp.com or call 877.308.PEAK (7325). Peak Performance can be found on Facebook and Twitter - @swimcamp.
# # #