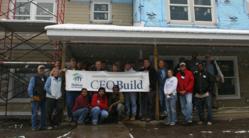 "These executives are wonderful and inspiring leaders. They know success in business is linked to success in the community, and they understand stable housing is the key to that," Susan Haigh, CEO and President of Twin Cities Habitat for Humanity
Minneapolis, MN (PRWEB) October 04, 2011
More than three dozen top executives from Minnesota companies are volunteering for Twin Cities Habitat for Humanity's 10th Annual CEO Build on Monday, October 10.
"These executives are wonderful and inspiring leaders," says Susan Haigh, President and CEO of Twin Cities Habitat. "They know success in business is linked to success in the community, and they understand stable housing is the key to that."
This will be the largest CEO Build Twin Cities Habitat has ever done. Volunteers will work on an eight-unit townhome project in Northeast Minneapolis. Homebuyers will volunteer alongside the executives as part of the sweat equity requirements for Habitat homeownership.
"We see great value in the work Habitat does," says Richard Davis, Chairman, President and CEO of U.S. Bancorp and co-chair of the CEO Build. "It's a vital "hand up" to hardworking families. Creating a safe home where children can grow and dream is a smart move for our hometown – and for the future."
US Bank has committed more than $952,000 to Twin Cities Habitat since their partnership began in 1988. The company's volunteers repair approximately 10 homes each year through Twin Cities Habitat's A Brush with Kindness program.
Douglas Baker, CEO of Ecolab, is the other co-chair for the CEO Build. He says, "We're in the business of making the world better and supporting Habitat is just another way we do that. It's a great return on investment."
Ecolab has committed $846,000 to Twin Cities Habitat since its partnership began in 2002. This summer the company sponsored an entire house in St. Paul where Ecolab employees volunteered.
Twin Cities Habitat is one of the largest Habitat affiliates in the country. It will build and provide 0% interest financing for 60 homebuyer families this year. The organization will also repair 125 homes through the A Brush with Kindness program and counsel hundreds of Minneapolis homeowners who are in danger of foreclosure.
Some corporations and groups that'll have executives taking part in the CEO Build include:
Allina Hospitals & Clinics
Andersen Corporation
Builders Association of the Twin Cities
CB Richard Ellis
Children's Home Society & Family Services
City of St. Paul
Columns Resource Group
Dorsey and Whitney LLP
Ecolab, Inc.
Faegre and Benson LLP
HealthPartners
Land O'Lakes, Inc.
Liberty Diversified International
M.A. Mortenson Company
Minneapolis/St. Paul Business Journal
MN Housing Finance Agency
The Opus Group
OrangeSeed
Padilla Speer Beardsley
PricewaterhouseCoopers LLP
Regions Hospital
St. Francis Regional Medical Ctr.
St. Paul Foundation
Select Comfort Corporation
Sunrise Community Banks
Thrivent Financial for Lutherans
U.S. Bancorp
Wells Fargo
Wilkerson Associates
Xcel Energy
# # #