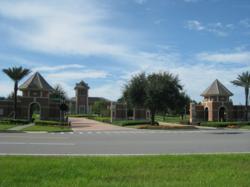 At over 57,000 square feet, our new lifestyle amenities are guaranteed to have something for everyone
Groveland, FL (PRWEB) October 04, 2011
Trilogy Orlando, a resort communities for the baby boomer generation developed by Trilogy by Shea Homes, is announcing today it has completed its outdoor Sports Pavilion, the first amenity at its 57,000+ square foot planned Members' Club, expected to be one of the largest on a square-foot-per-resident basis found at any active adult community in Florida. Outdoor amenities that have just been completed include state-of-the-art tennis, bocce, and pickleball courts.
The public is invited to the grand opening on Saturday, October 15 from 11 a.m. to 3 p.m. at the community at 229 Bayou Bend Road in Groveland. Guests will be treated to food and refreshments; tennis, pickleball, and bocce demonstrations; live music and games; tours of the new Club; special buyer incentives, and tours of new homes from the $100s.
The Club, situated amid inspiring architecture and stylish interior design, will be named Magnolia House and will include the latest in dining, fitness, relaxation, and social connectivity. When fully completed next year, it will feature:
--Two venues offering casual food and drink options. The Grille will feature HDTVs for viewing games, and Explorations Connection Lounge will offer grab-and-go breakfast and snack options along with the latest newspapers and magazines, plus a laptop bar for exploring the Internet
--A spectacular indoor-outdoor pool with space for active exercise, luxurious relaxation and a protected indoor area for year-round swimming
--The expansive Athletic Club, with equipment from Technogym®, the official supplier of fitness equipment for the Olympics, Pan American Games, and the World Cup
--A BodySmart℠ Women's-only gym
--A spin, yoga, and aerobics studio
--Two specialty rooms for cards and games – Four Suits and The Office
--A special events room for parties and functions
--Artisan Studio for homeowners and guests to explore creative talents
--The Crow's Nest "man cave," featuring billiards and the latest golf video simulation technology
--Emma's Culinary Garden, a demonstration kitchen for entertaining and cooking classes
"At Trilogy by Shea Homes, we are recognized for building exceptional, award-winning active adult resort communities. At over 57,000 square feet, our new lifestyle amenities are guaranteed to have something for everyone," said Jeff Gersh, area vice president for Shea Homes Active Lifestyle. "From the crushed oyster shell bocce courts to the cushioned, rubberized tennis courts that are easier on the knees, Trilogy Orlando has already started building with every detail in mind to make sure our homebuyers can experience the best that this exciting phase of life has to offer."
In anticipation of the new club, the Groveland community is offering a New Club Guarantee, at no extra cost to homebuyers – if it does not complete the new club by December 31, 2012, it will buy the house back. Contact a community representative for complete details.
Nationally ranked #1 in active adult homebuyer satisfaction three years in a row, Shea Homes Active Lifestyle Communities are known for their architecturally superior, resort-style clubs and amenities that revolve around boomers' specific needs for wellness, exploration, continued learning, and close personal connections. With Trilogy in Groveland and Shea Homes at Victoria Gardens in DeLand, Shea Homes Active Adult Communities offers boomers two communities in Central Florida from which to choose.
Trilogy opened in late 2010. At build-out, the active adult community will include 999 homes. Homes range in size from 1,200 to 3,000 square feet and from $125,000 to $315,000.
Phase II of the Club build out, which includes the athletic club, indoor/outdoor pool, and the cabana area, is now underway. A slide show and more details on the New Club Guarantee are available at http://www.trilogylife.com/communities/florida/orlando/amenities/. Those interested in learning more can also call 800-685-6494.
About Shea Homes Active Lifestyle Communities
Trilogy communities are high-end retirement resort communities offering a new choice in living to those looking for an exciting lifestyle that revolves around wellness, exploration, continued learning, and close personal connections. Architecturally superior product design and amenities reflect the changing needs of the baby boom generation, including business services, world-class clubs, state-of-the-art fitness facilities and a diverse range of recreation and education opportunities. Trilogy is committed to addressing boomers' growing concern about the environment and energy usage, and now offers Shea Green Certified® new homes for sale across its portfolio, delivering substantial energy savings to home owners while reducing each home's carbon footprint by up to 48 percent. More information about 55+ communities at Trilogy is available by visiting http://www.TrilogyLife.com or calling (800) 685-6494.
# # #