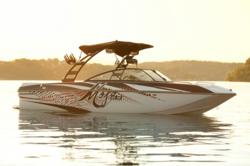 Experience the extraordinary wakes, handling, ride and reliability of Moomba's new wide-bow Mojo 2.5.
Maryville, TN (PRWEB) October 04, 2011
Experience the extraordinary wakes, handling, ride and reliability of Moomba's new wide-bow Mojo 2.5. This 22-foot 6-inch wake rider's dream rolls off the Skier's Choice production line with a boat-load of standard features and more wake sport performance than its price class can handle. A definite departure from the "me too" pickle fork trend in wakeboard boat design, this new Moomba gives value performance buyers an extremely safe, deep, wide bow in addition to a boat load of accommodation. This unique design is pushed by the torquey Indmar Assault™, perfect to pull all levels of riders. Beginner to pro will flip for the Moomba Multisport Wakeplate and the available Gravity III Ballast System. Visit your local Moomba Dealer and put some more pop in lake life with the Mojo 2.5.
Feature rich on a budget.
Whether the goal is reaching new heights in wake sports or simply looking for low-cost high-enjoyment days on the water, the Mojo is inspiring. No cost optional exterior designs, the new Oz tower and stainless accents are just some of the features that make this Moomba wake boat seem less like an value-priced boating option and more like a top-of-the-line offering. Wake accessories like the standard Multisport Wakeplate and standard Digital Cruise Pro with Display as well as the available 1250-pound Gravity III Ballast System, make the Mojo as much of a competitor on the water as it is a comfort to those in the boat.
Just as fun on the inside.
With room for 16, the Mojo 2.5 magically fits the whole crew. The bow has been widened and deepened to accept extra passengers safely and comfortably. The innovative design of the Mojo bow lends itself to this kind of accommodation. Add the available filler cushion and the relaxation expands. Unlike other new big bow offerings this new Moomba isn't just about the bow. The common seating area is where most passengers gravitate because that's where extreme accommodation lives. Snap-out Syntec Fast-dry carpet exudes the comfort of home along with ease of maintenance in extreme boating environments. Built on one of the industry's quietest fiberglass floor, deck and liner designs, the Mojo preserves the convenience of removable carpet without sacrificing low noise levels. The social lounge seating is covered in expanded vinyl with a stain resistant top coat for comfort and durability. And no matter the seating position, the built-in and over-sized cup holders are close by. The Mojo is even a joy at night with standard LED lighting.
Powerful expectations overboard.  
This Moomba can kick it into top gear. Power plant reliability comes standard in the new Mojo with a 330-horse, fuel injected, catalyzed, 5.7 liter Indmar Assault™ engine. The torque this engine creates is enough to snap-up a number of riders, even at the same time. Custom calibrated for Mojo by Indmar Marine Engines, the 330 Assault™ is more than enough to power life on the water.
Birth of a legend.
Like Moomba on Facebook, follow on Twitter or logon to the Moomba Boats Blog Tuesday, October 3, 2011 to witness the birth of the new Mojo 2.5. Moomba will be digitally chronicling the first production build of this new wakeboard boat with daily build photo posts. Check out the photos and the production processes, then insert a new there.
Visit your nearest Moomba dealer to experience the Mojo 2.5 and the other four budget-friendly 2012 model offerings from Moomba Boats. If you can't get away right now logon to Moomba.com and configure your Mojo.
About Moomba: Introduced to the tournament wakeboard and water ski boat category as an affordable performance water sports boat, Moomba is not a compromise. It is a simply designed boat built for extraordinary performance without the added cost of needless complexity, trendy accessories and high profile athlete endorsements. Moomba boats put the fun in function with everything you need and nothing you don't. Standard features abound with powerful engines, speed control, comfy seating, straight-line tracking, nimble handling, solid ride, pro-level wakes, massive storage, reliable performance, outstanding resale and years of dependable operation. Moomba boats.
About Skiers Choice, Inc.: Moomba boats are manufactured by Skier's Choice, Inc., a privately held company located in Maryville, Tennessee. In addition to Moomba, Skier's Choice builds a luxury performance line, Supra Boats. Both Moomba and Supra boats are sold to dealers in the United States and around the world. Today Skier's Choice is the third largest manufacturer of tournament wakeboard and water ski boats in the world. Skier's Choice encourages all boating participants to learn and follow safe boating practices.
###