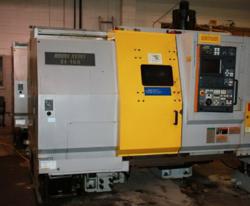 Chicago, IL (PRWEB) October 05, 2011
Machinery Marketing International (MMI) is preparing for the company's latest upcoming auction-- the Special Single Facility Auction held online between the dates of September 29th and October 12th. Interested buyers can browse through thirty-five CNC machine tools, including grinders, lathes, manual machines, and more at http://www.mmi-auction.com. This auction features more than one million dollars worth of quality, used CNC equipment. All machines are in good condition and are priced to sell. The machine tools are all located in Michigan and potential buyers can submit bids in the online auction any time during the dates provided until 1:00 p.m. CST on October 12th. On-site, in-person inspections will be available from October 10th through the 11th to give buyers an opportunity to see the machine tools' high quality in person.
Several high demand CNC machines listed in the auction are the Star ATG-6AC Grinder, Supertech Planotech Surface Grinder, Mori Seiki ZL-153 Lathe, Makino A-77 HMC, Fanuc S430 125 KG 6-Axis CNC Robot, and the Motch 125TS VTC. MMI's combination of ultra-low prices with ultra-high quality ensures the satisfaction of each customer. Buyers have the option to check out the machines at the on-site location in Michigan. For more details on auction location, contact MMI at (877) 210-4978.
The single location creates a great cost savings opportunity for buyers that would like to purchase more than 1 piece of machinery as they would be shipped from the same origin thus saving money in transportation costs. This may be particularly useful for buyers that would like machines placed into a container and sent overseas or for buyers that prefer to fill a dedicated truck.
Interested buyers can register to buy or sell in the next auction at the company website: http://www.mmi-auction.com/register.asp. The site proves to be especially helpful for buyers and sellers because it offers easy navigation and a full, detailed display of all of the used CNC machine tools available in upcoming auctions.
If you are interested in utilizing the MMI Liquidation Services turn-key solution or are interested in selling a single machine, go to mmi-auction.com/register.asp to start the process. The company also does conventional deals on CNC machine tools. They will buy one machine or an entire plant. MMI Auction is located at 1101 W. Monroe #1A, Chicago, IL 60607. Further information on the company, CNC machine tools for sale / Sell CNC machines / Buy CNC machines, or the online auction site may be obtained by calling (877) 210-4978, sending an email to jenny(at)mmi-auction(dot)com or visiting the company's online auction site at mmi-auction.com.
###