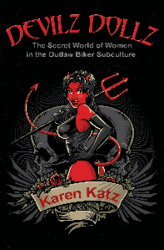 There is absolutely no shortage of women who are willing to risk taking a ride on the wild side with an outlaw biker.
North Vancouver, British Columbia (PRWEB) October 20, 2011
The outlaw biker is a familiar part of the cultural landscape, and the violent reputations of Outlaw Motorcycle Gang members that most of these men wear like a badge of honor have been captured in literature, as well as film. Much is known about the men in these groups, but what about the women who are attracted to these men? Little is known about women affiliated with outlaw bikers beyond a vague stereotype about "biker babes" or "motorcycle mamas," but this new book released by Dog Ear Publishing sets out to change that.
According to the author, although most people might think outlaw bikers are frightening or repulsive, to these women outlaw bikers are desirable. These women hunger for men who are bad and dangerous. They are compelled to dance with the devil and sacrifice themselves accordingly. Strangely enough, no matter how much they are physically or psychologically abused, there is absolutely no shortage of women willing to risk taking a ride on the wild side with an outlaw biker, the book claims. The intrigue of association with an outlaw biker acts as a powerful magnet for many women. Many of these women are gorgeous, intelligent, and accomplished, but they find themselves drawn to the bad boy image outlaw bikers embody, to the excitement of a hedonistic lifestyle, a life which seems as exciting as a roller coaster ride — fast motorcycles, macho men, drugs, alcohol, parties, guns, topless bars, the thrills of flaunting social norms and any way they want it sex.
Author Karen Katz has brought together a ground-breaking collection of stories about the lives of the women who associate with the epitome of "bad boys" — members of the outlaw biker subculture. Each article delves deep into the psyches of these women, and in several cases, tells the story of what happens behind closed doors in the woman's own words. Katz has brought together a varied group of writers to create a multi-layered volume, with voices from academia and journalism as well as law-enforcement officials and the women themselves. The variety of perspectives gives the reader a more complete picture of the complex and complicated relationship between women and outlaw bikers.
Devilz Dollz: The Secret World of Women in the Outlaw Biker Subculture is an anthology that helps to fill in the knowledge gaps about this mysterious underworld. It is particularly difficult to obtain information about women affiliated with Outlaw Motorcycle Gangs, the author notes, as it would be hazardous for any female researcher to immerse herself into the outlaw biker subculture. Katz has spent more than two decades tracking down information about the outlaw biker subculture. Her particular interest in the women involved with these men compelled her to seek out all the information written about the women affiliated with these groups. As well, some authors contributed stories specifically for this edited work. Katz also wrote and researched an article on why women are attracted to outlaw bikers, which is included in this collection of readings.
The result is this volume, which contains many first-hand accounts of the biker subculture, from former and current outlaw bikers as well as from women who are still affiliated with biker clubs or who have left the lifestyle.
Katz has a B.A. and a M.A. in Criminology, and a LL.M. specializing in Criminal Law. Katz is known for her impeccable research skills and has a reputation as being "the data hound" for her unique abilities to track down even the most obscure primary and secondary data. Katz is the author of several other books related to the outlaw biker subculture, including Behind the Patch: Towards an Understanding of Public Safety and Law Enforcement Motorcycle Clubs; Breaking the Outlaw Biker Code of Silence: A Comprehensive Literature Search on the Outlaw Biker Subculture, and Gangsterism: Canada's Law of Criminal Organizations.
For more information, visit http://www.DevilzDollz.com
DEVILZ DOLLZ: THE SECRET WORLD OF WOMEN IN THE OUTLAW BIKER SUBCULTURE
Karen Katz
Dog Ear Publishing
ISBN: 978-145750-420-4 472 pages US
Available at Ingram, Amazon.com, Barnes & Noble
and fine bookstores everywhere
About Dog Ear Publishing, LLC Dog Ear Publishing offers completely customized self-publishing services for independent authors. We provide cost-effective, fast, and highly profitable services to publish and distribute independently published books. Our book publishing and distribution services reach worldwide. Dog Ear authors retain all rights and complete creative control throughout the entire self-publishing process. Self-publishing services are available globally at http://www.dogearpublishing.net and from our offices in Indianapolis, Indiana.
Dog Ear Publishing – self-publishing that actually makes sense.
###