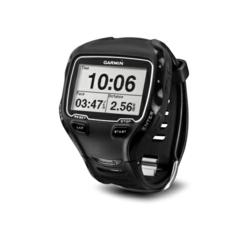 the best ultra endurance GPS watch on the market today.....
Bozeman, MT (PRWEB) October 12, 2011
The new Garmin Forerunner 910XT has arrived just in time for the Hawaiian Ironman 2011 and triathletes and ultra-endurance athletes alike could not be more excited. Getting one before Christmas might be the real trick according to the Heart Rate Watch Company.
The predecessor watch, the Garmin Forerunner 310XT, gave the world its first true long course triathlon GPS watch in April of 2009.
"This watch has added some great features like a barometric altimeter, training effect and swim laps and strokes, plus all the features of the 310XT," says Rusty Squire of national fitness electronics retailer the Heart Rate Watch Company. Squire continues, "It takes the best ultra endurance GPS watch on the market today and just makes it even better."
NEW FEATURES THAT HIT THE SPOT:
The Garmin Forerunner 910XT drew on the playbook from the Garmin 610 and added training effect to keep a handle on your cumulative training load. Furthermore, it has added a barometric altimeter to increase the accuracy of real-time ascent and descent data. The GPS data has always been very accurate on altitude once it has been uploaded into Garmin Connect and the user hits the altitude corrections button but athletes really wanted more accurate data on board to measure this in real-time and now it is right there on the wrist top.
NEW FORM FACTOR:
The very first two full Ironman GPS watches were very large and both the Timex Global Trainer and the Garmin Forerunner 310XT scared off many women with small wrists. The Garmin 910XT brings to bear a somewhat smaller form factor. The demands of running full GPS mode for 15 hours or longer necessitate a lithium-ion battery that can meet the task, so creating a small watch for long course triathlon may still be a ways off.
Of course the Garmin 910XT still delivers multiple screens for each sport and picks up bike power data from ANT+ compliant power meters. Also, available by the Spring of 2012 will be the Garmin Vector power pedals which will also work with the 910XT to deliver watts data.
We tested every new Garmin GPS sports product made for the past several years and each successive generation gets better, adding more features. Of particular note in the new Garmin Forerunner 910XT are the training load and the barometric altimeter. We also found the ability to track laps and strokes swimming as another feature that should help improve swim efficiency.
IT WORKS FOR LOTS OF SPORTS:
Many commentators and reviewers will try to stereotype the Garmin Forerunner 910XT as strictly a triathlon watch but in reality it is great for sports like ultra-running, all-day summit attempts, dawn until dusk back country skiing excursions, cross country trials and dirt biking, inline skating and so much more. Add a external battery pack with solar charger and this GPS watch is set to tackle even remote locations. Heart Rate Watch Company has customers down in the Grand Canyon testing some of the Garmin GPS watches out using an external solar charging kit, so they are constantly testing this equipment in all conditions.
The new super man GPS watch is set to be available in November of 2011 so don't forget to get one early because Santa may run out.
###