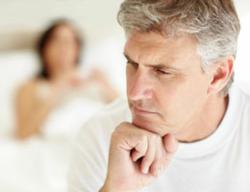 London (PRWEB UK) 6 October 2011
121doc conducted a recent poll to find out if men aged 40+ would openly discuss their erection problems with their local GP.
When surveyed, almost one-third of men admitted they would choose not to consult their GP for professional medical advice or treatment.
Of those men who answered no, over 40 per cent agreed that impotence is a condition too embarrassing to discuss with a doctor face-to-face.
Surprisingly, 34 per cent also ruled out a doctor's visit and would rather deal with the issue themselves, meaning their condition could remain undiagnosed.
A further 12 per cent of those men surveyed revealed they would not visit their doctor for advice or treatment because they are too scared to open up about their problem.
The remaining 10 per cent of men simply put it down to not having enough free time.
In light of the results from the 121doc poll, it is evident that a large number of men in the UK still believe there is a stigma attached to the notion of visiting a local doctor for guidance.
For others, the problem remains brushed to one side because of the time it takes to get to a doctor, which suggests there is a demand for a faster, more discreet route to treatment.
Impotence serves as a precursor for long-term problems like diabetes and a consequence of psychological disorders including stress and depression.
Erection problems also have a direct impact on a man's social and sex life. It is suggested that impotence is the reason one in five marriages fail.
For these reasons alone, it is essential that men who are suffering from an impotence problem consider speaking to a doctor to find a solution and to avoid further social and psychological complications.
121doc offers a comprehensive, highly confidential online service whereby men suffering from impotence can receive genuine medication from a UK doctor, prescription included. This service requires no doctor's appointment or pharmacy visit, and includes 24 hour delivery.
Media contact:
Toby Sandford
121doc
020 7186 0728 Ext: 7089
pr(at)121doc(dot)com
###