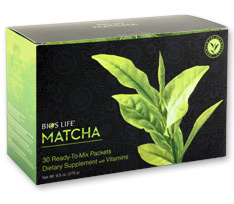 Bios Life Matcha delivers health and vitality while having a minimal impact on blood glucose levels.
Salt Lake City, UT (PRWEB) October 06, 2011
Recently at their 2011 Leadership Summit, Unicity International announced the release of their new, vitality improving drink Bios Life Matcha. This new, delicious drink is the first drink to be powered by "Chi-Oka Matcha", a high-end green tea containing 20 times more antioxidants than the açai berry.
Unlike most drinks, Bios Life Matcha does not contain any artificial caffeine or other stimulants which are usually relied upon to boost energy levels. Instead, Bios Life Matcha uses the nutrients that are found in things like Chi-Oka Matcha green tea, blueberries, pomegranates, and other natural ingredients to produce natural energy in the body. These ingredients produce a relaxed, focused energy in the body that can help reduce stress among other things.
Unicity released two different products containing Unicity's Chi-Oka Matcha: Bios Life Matcha and Bios Life Matcha Focus. Bios Life Matcha is a low calorie, low carb drink that contains B-vitamins and L-Carnitine to ramp up the body's metabolism, helping the body burn fat. Bios Life Matcha Focus supplies more Chi-Oka Matcha, which naturally produces the amino acid L-Theanine. This, combined with Citicoline, helps improve mental focus, making it the perfect drink for working professionals who don't want the "crash" associated with energy drinks.
The difference between Unicity's Matcha products and other popular drinks is quite impressive. According to Thomas Cutler, Ph.D. and Chief Science Officer of Unicity, "Bios Life Matcha is a unique product that delivers health and vitality while having a minimal impact on blood glucose levels. It also tastes great. It becomes the perfect companion to Bios Life Slim in your product portfolio."
Matcha and Matcha Focus are now available for purchase from the Unicity International website.
About Unicity International:
Unicity International is a worldwide leader in nutritional and personal care products. The company's mission is to "Make Life Better", which they attempt to do by helping people look better, feel better, and live better. Recent products like Matcha and Slim G have even helped those with diabetes to stabilize their blood sugar and glucose levels. To learn more about Unicity and its products, visit http://www.unicity.net.
###