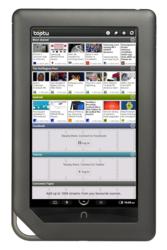 Cambridge, England & Denver, CO (PRWEB) October 06, 2011
Today Taptu, the social media and mobile search technology company, is announcing the launch of its popular Android social newsreader on Barnes & Noble's NOOK Color Reader's Tablet™, perfect for people who love to read and discover all types of content in rich, beautiful color.
Known by many Android and iOS users as the best way to curate and consume customized news, Taptu is now available in Barnes & Noble's NOOK Apps™ store for NOOK Color customers to follow and share content from mainstream interests to niche passions and hobbies. The massive influx of Web news options today makes Taptu an essential tool for staying organized, informed and up-to-date about what matters most. Now NOOK Color customers can use the same great app to create and share their own playlists of personalized news, media and social updates.
"Taptu on NOOK Color just makes sense. Our goal is to provide the best way to consume media on-the-go and Barnes & Noble provides an incredible canvas for people to access and read what matters most to them—a perfect match," said Mitch Lazar, CEO of Taptu.
Taptu is known for being the only app that lets users 'DJ the News' by mixing topic-based stories, publications, blogs, RSS feeds and social media posts and updates from Facebook, Twitter and LinkedIn into customized streams of news. Taptu delivers over 175,000 streams from major media sources, websites and blogs, with 110,000 original streams curated by users. The app also includes other great features including Instapaper and "Read It Later" integration for saving articles to read at another time, the ability to choose between light and dark themes, and the option of reading articles full-screen to take advantage of NOOK Color's seven-inch VividView™ color touchscreen.
Taptu's clean, intuitive design gives users a slick and unique visual experience with the option to choose the size and color of streams, and the company's search engine heritage pushes the envelope beyond simple RSS feeds, actually recommending sources and enabling new content discovery. Taptu's search expertise and algorithms promote plurality and a different perspective by identifying contextual, related content for each story. Additionally, automatic elimination of duplicates in the stream ensures every item is relevant and not something people have seen before.
Download the free Taptu app today for NOOK Color: http://search.barnesandnoble.com/Taptu-DJ-Your-news/Taptu/e/2940043860118?ean=2940043860118&productcode=NE&textbookcode=
About Taptu:
Founded in 2006, Taptu is an award-winning social media and mobile technology company based in Cambridge, England, and Denver, Colorado. Taptu builds innovative platforms, tools and applications that enable highly personalized creation, curation, recommendation, search, discovery, management, consumption and sharing of content across all personal screen-based devices. Wapedia, Taptu's popular mobile Wikipedia with over 1 million downloads, is also available for download at the Apple App Store and on the Android Market.
See http://www.taptu.com for more information.
###