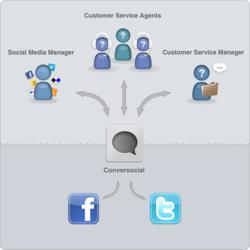 Conversocial is already used by many large organisations, including ITV, Net a Porter and River Island to manage social media across the globe.
London, UK (PRWEB) October 10, 2011
Conversocial, the Shoreditch-based social marketing and customer service software company, today announced two new editions of its integrated marketing and customer service software. Conversocial allows social media and customer service professionals to publish content across multiple Facebook and Twitter accounts, engage customers in conversations and analyze detailed results to improve the return on investment of social media programs.
Developed in response to customer demand for a wider set of controls, Conversocial has released Team and Enterprise editions of the popular software, providing the most advanced permissions-based control commercially available today. The permissions system allows full business integration with Facebook and Twitter, enabling seamless global and local management of social media programs across multiple teams while alleviating risk for the brand and providing fully granular control, audit trail and compliance capabilities.
"Social networks are proving highly effective for businesses in starting conversations with customers, with the conversations now increasingly managed in-house. This complex process involves multiple teams across departments, with marketing and customer service teams often working together for the first time," commented Joshua March, CEO, Conversocial.
"Conversocial's Enterprise edition enables global companies to manage high volumes of social interactions across multiple countries, while providing the granular control needed and the ability for customer service teams to target individual customers with tailored, language-specific responses. Collaboration between teams is easy, with the software determining who has permission to post content and interact with fans."
The Team Edition, aimed at growing social media and customer service teams, provides simple role and access permissions with aggregated analytics and multi-channel publishing. The cloud-based software differentiates between social media managers and customer service agents, facilitating collaborative working, for example responding to comments, while restricting an agent's access and ability to post other content to corporate Facebook pages.
Conversocial Enterprise, which provides extensive permissions-based social media management, wraps multilevel publishing and engagement in permissions. The software allows individual roles to be created with specific permissions; local store managers can be authorized to post and reply to comments relevant to them, but not to comment on brand matters. This unique role and location-based control over publishing content enables permissions hierarchies to be generated that reflect multiple teams structures across companies on a national and global basis, ultimately providing a personal approach without risking corporate image.
Conversocial is already used by many large organisations, including ITV, Net a Porter and River Island to manage social media across the globe. Groupon uses Conversocial to manage hundreds of Facebook pages and numerous Twitter feeds across 15 countries, with individual country teams managing local and national pages.
About Conversocial
Conversocial is a Social Media Management System that allows businesses to take control of the increasing volume of marketing and customer support messages going through Facebook and Twitter. Through in-depth engagement analytics and comprehensive comment management tools, Conversocial enables effective marketing distribution and customer support.
For more information visit Conversocial.com or follow @Conversocial.
###