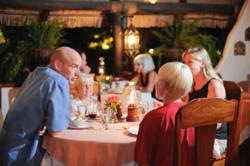 Chaa Creek is still very much a family affair, and Christmas means a lot to everyone here!
(PRWEB) October 06, 2011
More and more people are opting to celebrate traditional holidays in exotic locales, and in response to this trend, Chaa Creek is taking bookings for this year's Christmas vacation packages early.
Marketing administrator Larry Waight said the decision was based on increased demand, and in the interest of preserving the intimate ambience of Chaa Creek's Christmas tradition.
"Chaa Creek is still very much a family affair, and Christmas means a lot to everyone here - the owners, and our many staff members and their families. We all celebrate together with our guests, which is part of the magic, and this is why we like to organise everything early.
"It's sort of like planning a celebration with your own family – you want to get the guest list settled, plan the menu and begin ordering things.
Mr Waight pointed out that Christmas is a very important celebration in Belize, which, in addition to Maya and African roots, has a strong Spanish and English heritage.
"This is what makes Christmas in Belize so unique and colourful," Mr Waight said, "The Spanish and the English brought Christmas with them, and being so far from home, the early settlers, including the buccaneers, went out of their way to celebrate it. The Maya and African people enthusiastically embraced the Yuletide spirit, and added their own vibrant elements, resulting in this great mix of the familiar and the exotic. And our guests, some of whom return every year, just love it," he said.
Mr Waight said that exceptional climate, a friendly, bilingual population, stunning, varied landscape and ease and affordability are all reasons for the growing popularity of Christmas in Belize.
"Imagine a tropical Christmas vacation where you can snorkel in sparkling Caribbean waters in the morning, explore incredible Maya temple s that same afternoon, and enjoy an exquisite turkey dinner under a traditional Christmas tree in a pristine rainforest that evening. Only in Belize…"
The Lodge at Chaa Creek is Belize's oldest and most highly awarded eco resort, featuring 23 thatched roof cottage accommodations, luxury suites, renowned restaurant and Jungle Lounge, Natural History Centre, Butterfly Farm and Hilltop Spa, pool and other amenities within a 365 acre private nature reserve containing over 70 Maya temples and archaeology sites, crisscrossed with miles of jungle trails perfect for horseback, mountain bike and hiking expeditions and river canoeing.
Mr Waight said that Chaa Creek Christmas vacation always caters to a varied group, with families, friends, couples sharing a romantic exotic holiday and "just about anyone seeking an alternative to a commercial Christmas. It really is like a family get-together, with people exchanging presents in their rooms, verandas or even under the huge tree in the restaurant, which has made for some memorable photo opportunities in the past. To tell the truth, we're all already looking forward to it."
Chaa Creek's a ll inclusive Christmas vacations are available from 17 December to 3 January.
For more information about the Christmas Vacation Package, please contact the property at 1-877-709-8708, email - reservations (at)chaacreek.com or visit the website at http://www.chaacreek.com
###