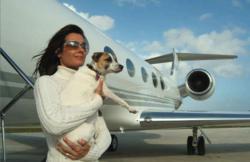 I am very proud of our newest partnership with Chein Bleau and Sit 'n Stay Global to provide private charter flights for clients flying with their pets
(PRWEB) October 11, 2011
Blue Star Jets, the world's most comprehensive and efficient private jet brokerage company, Chien Bleu, premier specialists in dog-friendly accommodations and Sit 'n Stay Global, the foremost provider of in-flight service for pets aboard private jets, have announced a strategic alliance that brings new meaning to luxury pet travel. Blue Star Jets, in as little as four hours, can arrange access to the ideal private jet for any given charter flight to any destination in the world. Once on board, Sit 'n Stay flight attendants provide exquisite service, offered by trained professionals who are certified by the American Red Cross' Pet First Aid and CPR programs. And as a bespoke travel agency, Chien Bleau represents only the world's highest quality hotels and resorts that are truly welcoming to dogs.
Carol Martin, Top Dog at Sit 'n Stay Global, said, "The focus at Sit 'n Stay Global is to provide a supremely safe and satisfying experience for clients traveling with pets and to make your pet feel like an important guest, too, including our newest offering: FURst Class Service. We not only stay current on all safety and culinary training to make your flight superb, Sit 'n Stay flight attendants are true pet lovers. We developed the first standardized Pet Safety Protocols for pets flying on private jets. These safety protocols cover everything from turbulence to decompression and bracing positions, as well as evacuation procedures on land or in water."
"At Chien Bleu, our recommended properties must achieve more than being truly welcoming to dogs. With exceedingly high standards, the service and surroundings must also be of the highest quality to be included in our portfolio." according to Erin Boyd, Director of Chien Bleu Travel.
Blue Star Jets, started as a new Private Charter Jet Flight venture in 2001 by Ricky Sitomer and Todd Rome, has created an entirely new industry segment of Private Charter Flights. Blue Star Jets has arranged over 100,000 flights to-date for its many loyal customers, ranging from the elite in politics, industry, entertainment stars, sports celebrities and the well-heeled individual traveler.
"The company has kept its industry leading position by not only offering the best price and service, but by continually expanding its range of offerings. People are choosing to fly on private jets not only for the security, convenience and comfort they provide, but also to be able to bring their pet along in the cabin, so I am very proud of our newest partnership with Chein Bleau and Sit 'n Stay Global," added Todd Rome.
So why not consider having your entire family treated like royalty on your next trip? It all starts with contacting Blue Star Jets, Chien Bleau or Sit 'n Stay Global, and they can make the rest fall into place. Through our partnership, you can now have your cake (or dog biscuit) and eat it too. Compromise and guilt are a thing of the past. For more information about pet friendly private flights, call Martha Duke, Blue Star Jets Account Executive at 212-810-4842.
###