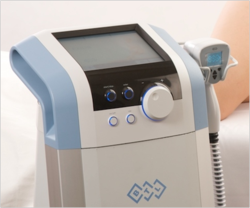 Boston, Mass (PRWEB) October 10, 2011
BTL Industries, the designer and manufacturer of Exilis RadioFrequency (RF) technology to reduce wrinkles, treat laxity and reshape both the face and body, has moved into new corporate offices in Framingham, Mass. The relocation from South Carolina was spurred by continuous growth of Exilis RF within the Company, including the clinical, sales, customer service, IT and marketing departments.
"We are excited to complete renovations and move into a national corporate space where we can proudly bring our customers, offer training seminars, and enable current and future employees to work efficiently under one roof," said BTL Industries President Marcel Besse. "In addition to the relocation, and thanks to the impressive professional acceptance of our flagship Exilis RF device, we are pleased to announce several company updates that will further our commitment to outstanding quality, education and patient satisfaction," added Mr. Besse.
Recent initiatives and events include the following:

Nilsa Marino joined BTL as Director of Business Communication
Andrea Morrison, RN, will serve as the company's new Director of Clinical Affairs responsible for advancing protocols and customer support
Consistent quarterly increases in market share
Introduction of new technologies
Stronger service capabilities
Podium presentations at the upcoming American Society for Dermatologic Surgery meeting in Washington, DC on November 3-6
Exilis focused RF advances the non-invasive treatment of face and body wrinkles and collagen loss with its delivery of precise heating and cooling plus real-time monitoring of skin temperature. This constant detection and control of RF energy flow allows the physician to reach therapeutic temperatures in the shortest amount of time, providing a predictable and beneficial response while ensuring patient safety and comfort.
Patients also experience superior anti-aging benefits with the following key advantages:

No downtime and maximum comfort due to controlled, gradual warming
No anesthesia, no pre-treatment requirements, and no numbing
No injections and no recovery
Quick treatment sessions with optimal results typically achieved after only four sessions; each session lasting about 20 to 30 minutes spaced about 7 to 10 days apart
Immediate and progressive results that last
The device has been clinically tested with excellent outcomes and is cleared by the FDA in the U.S. for use in non-invasive dermatologic and aesthetic procedures with indications for non-invasive treatment of wrinkles and rhytids.
About BTL Industries
Headquartered in Prague, the Czech Republic, BTL Industries designs, manufactures and sells a wide range of medical equipment. Over the past 18 years, BTL has become a major global manufacturer of medical devices. Its primary market segments include cardiology, with such products as holter monitoring and stress test systems; pneumology; physical therapy; and medical aesthetics.
Founded in 2009, BTL Industries' aesthetic division takes the company into cosmetic medicine with non-surgical devices that represent the best in skin tightening, body contouring, fat reduction, anti-wrinkle, and anti-cellulite care. For more information, please visit http://www.exilis.com
Contact: Nadine Tosk
NDTC for BTL Aesthetics
nadinepr(at)gmail(dot)com; 847.920.9858
###