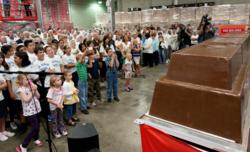 "The bar is huge, but the big idea is eating right and staying fit," said Eddie Opler, chief executive officer of World's Finest Chocolate."
Chicago, IL (PRWEB) October 09, 2011
A gigantic chocolate bar is bringing an even bigger idea to children and their families across the nation.
Weighing 12,190 pounds, the bar was produced by World's Finest® Chocolate. Guinness World Records recently certified the bar as the World's Largest Chocolate. The bar is a replica of the World's Finest "dollar bar" and is 4 feet wide, 3 feet high and 21 feet long.
World's Finest Chocolate, the leading provider of chocolate fundraising products, is featuring the bar in a tour called "Think Big. Eat Smart!" The tour is using an upbeat multimedia display to take the message of "eating right and staying fit" to students during presentations at schools.
The first phase of the tour included stops in Nebraska, Iowa, Wisconsin and Illinois. The next stop is New York City where the bar will make an appearance October 10 on the new ABC daytime food and lifestyle show, The Chew.
The remainder of the October schedule will take the bar to Pennsylvania, North Carolina, South Carolina and Ohio. The tour will conclude next May at the Sweets and Snacks Expo in Chicago.
The bar has 209,000 servings – enough for every fan in Yankee Stadium, Citi Field, MetLife Stadium and Madison Square Garden, with about 6,500 leftovers.
"We purposely made this bar to be an example of 'portion distortion'. The bar is huge, but the big idea is eating right and staying fit," said Eddie Opler, chief executive officer of World's Finest Chocolate."
Nelda Mercer, a registered dietitian and former spokesperson for the American Dietetic Association, said using the larger-than-life chocolate bar to discuss portion control is a great way to capture the kids' attention. "When you're trying to teach children about things like moderation and how to have a healthy relationship with food, having something that really makes them sit up and take notice helps make the message memorable."
The tour includes an educational video, original music and a specially choreographed exercise dance to communicate the importance of active lifestyles and healthy eating. The messages make exercise and portion control synonymous with "the good life" and stress that chocolate and other treats should be eaten only in moderation.
About the World's Largest Chocolate Bar
To make the world's largest chocolate bar, World's Finest Chocolate used:

1,200 pounds of almonds
5,500 pounds of sugar
2,000 pounds of milk powder
1,700 pounds of cocoa butter
1,400 pounds of chocolate liquor
About World's Finest Chocolate
For more than 60 years, World's Finest® Chocolate has combined the enduring appeal of chocolate with a proven fundraising model to help not-for-profit organizations. WFC's dedication to the art of fine chocolate making has led to the sale of more than 6 billion chocolate bars and has helped schools and organizations raise over $3 billion. Based in Chicago, World's Finest Chocolate is one of only a few companies in the U.S. that produces chocolate products from "bean to bar" in a single location.
# # #