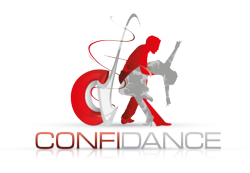 Our mission is to take you by the hand and lead you to the realization of your goals!
Columbus, Ohio (PRWEB) October 10, 2011
ConfiDance was modeled after a college in that it's curriculum is run through progressive courses. Appealing to all levels - from no experience to those with the desire to be professional instructors.
With the private-group class model, classes are kept small so that personal attention is kept central, and since it is a group, courses are extremely affordable. Best yet, with a proven curriculum, completing each level of dance happens at a faster rate than most conventional teaching methods.
Career Courses offered: Ballroom Instructor Certification Training, SalesFree Sales Training
Hobbyist Courses offered: Beginner's Social Ballroom, Wedding Dance Crash Course, Dance Camps, Champions Lecture Series
In addition to private-group courses, subjects are taught that will take your dancing, as well as your life to the next level. For professional certification courses, classes are included in the curriculum for resume' building and interviewing. There is help with job placement. ConfiDance receives emails frequently from studios looking for certified instructors.
For all courses mental coaching is provided.
No matter your goals--ConfiDance has a course for you!