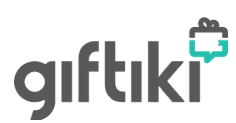 San Francisco, CA (PRWEB) October 10, 2011
It's time to bring birthdays back, according to giftiki, which today launched a collaborative gifting engine and social commerce platform that will alter the act of gift giving as we know it. With so many friends to appreciate – both online and off – it's tough to give substantially to each and every one. With giftiki, friends have a free, fun and social way to pool small monetary gifts into one fund so givers don't have to break the bank and recipients can get the things they really want.
Users join giftiki quickly and easily through Facebook, automatically pulling in their friends and their birthdays. An interactive, game-like interface lets users know which of their friends' birthdays have past, which are happening that day, and which are coming up. Givers can then decide on a friend and how much to give—anywhere from $1 to $10 – and accompany their gift with a personalized message and fun icon of their choosing. Gifts and icons then automatically post to recipient's Facebook and Twitter profiles, and the giftiki Gift-o-Meter shows how much has been given.
Giftiki is working with American Express to integrate Serve, American Express's new digital payments platform, as a future redemption option. In the meantime, recipients can instantly redeem their giftiki dollars at amazon.com, choose from a variety of retailers to include Macy's, Starbucks and Sports Authority, or receive an American Express gift card. Giftiki will be implementing several other instant redemptions options in the near future.
Giftiki's iPhone App, coming soon, is the perfect tool for mobile gifters; it provides birthday notifications, status updates and even allows users to preemptively send gifts that will arrive on their friend's special day. Apple push notifications alert users each time someone sends them a gift.
An estimated 82 million birthday-related posts are circulating through Facebook every day, according to giftiki.
Gitiki's CEO, Justin Stanislaw says, "The idea of Collaborative Commerce, which is a space that is gaining significant momentum, is simple: when everyone gives a little, together you give a lot. In these tough economic times, giftiki encourages small gifts that pool together and allow the recipient to buy something they actually want."
In honor of their launch, giftiki has decided to award one lucky user who joins between October 10 and October 17 a free trip to Vegas. So sign up and let the gifting begin!
About giftiki
Giftiki is transforming the act of giving by providing a fun and social way to gift. A leader in Collaborative Commerce, giftiki pools monetary gifts together into one fund allowing users to contribute to more substantial and meaningful gifts. Giftiki is headquartered in San Francisco, CA and has raised $1 million from Draper Associates, Crosslink Capital, GoldHill Capital and Transmedia Capital. For more information and updates, check out giftiki's Facebook page http://www.facebook.com/giftiki or visit http://www.giftiki.com.
# # #