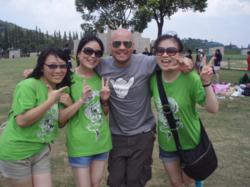 "I would recommend teaching abroad to anyone - it is a fantastic experience."
- Nic Iliffe, ESL Teacher in China
(PRWEB UK) 12 October 2011
Educators Overseas international teacher recruitment, based in Tampa, Florida, in the United States, is expanding operations to reach more teachers in the England, Ireland, Scotland and Wales who might be looking for teaching jobs. Director Christy Grimste reports, "We have had recent requests for literally hundreds of ESL (English as a Second Language) teachers from some of the most reputable educational institutes in the world and believe it or not, there are just not enough teachers in the US who are in a position to teach abroad right now." In response to the insatiable demand for foreign teachers, Educators Overseas reports that schools are offering a generous compensation package, including housing, flights, health insurance, and a salary.
Indeed, with most all expenses paid, teaching abroad for a year or two is a great way to ride out the economic downturn, especially for temporary or supply teachers. Many supply teachers in the UK may have plenty of teaching experience but still not be hired into a permanent position due to the poor economy. Such teachers looking for supply teaching jobs may find teaching abroad especially beneficial.
The appeal of teaching abroad lies in the adventure of living in another country, experiencing a different culture, and being able to travel to nearby exotic locales. But Educators Overseas cites another perk as well: a fun and playful teaching environment at English schools run by the Disney Company, for which Educators Overseas hires teachers to fill Disney's ESL teaching jobs. South African Nic Iliffe, an Educators Overseas teacher currently teaching ESL for Disney, has found not only adventure and fun, but also a career. Nic applied with Educators Overseas in 2008, was hired by Disney within a few months, and three years later is a supervisor at one of the Disney English schools. Nic loves his ESL job and tells prospective teachers to "Enjoy the adventure, it is what you make of it so do not pass up on this opportunity to experience and learn everything that you can." Read the full interview with Nic Iliffe on Educators Overseas' website at http://www.educatorsoverseas.com.
So who can teach abroad? Primary and secondary teachers generally need a teaching certificate, but ESL teachers oftentimes do not. According to Shannon Bland, Applicant Liaison at Educators Overseas, "Many people don't realize how easy it is. Native English speakers just need a Bachelor's degree and at least a year of teaching experience." Shannon notes that a TEFL certificate to teach ESL isn't required, but is an advantage.
Educators Overseas has been helping international teachers find jobs in schools around the world since 2007. Services are free for teachers and Educators Overseas helps the teachers through the entire process and even after the teacher starts teaching abroad. Those interested in teaching and living abroad can learn more on the company's website.
# # #