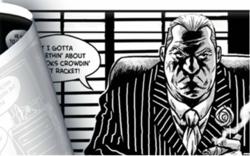 SmarterComics are based on popular business books, where we take the main message from the original books and apply illustrations to the summaries. This saves the reader time, helps the reader to remember concepts longer and have fun while reading
(PRWEB) October 10, 2011
'The Art of War' by Sun Tzu is heralded by many as a classic guide to achieving victories on both small and large scales. This 2,500 year old piece of Chinese literature is one of the best selling business books of all time, and its' focus lies on the strategies used in both war and competition. These can be applied to many situations where individuals or groups are battling for higher rank or power.
SmarterComics has released a comic-book version of 'The Art of War', highlighting the techniques and principles found in the ancient text. This 80-page comic book focuses on Tzu's tactics for successful victories, and applies the high-ranking Chinese general's knowledge in a way that makes reading fun, exciting and stimulating.
"SmarterComics are based on popular business books, where we take the main message from the original books and apply illustrations to the summaries. This saves the reader time, helps the reader to remember concepts longer and have fun while reading," said Colleen Bunn, Scriptwriter for SmarterComics.
This unique and innovative approach to storytelling helps readers understand the concepts found in 'The Art of War' and gives realistic examples of how readers can apply these ideals to modern day life. The summarizations in 'The Art of War' from SmarterComics will benefit readers in many practical ways, such as:

Learning the stratagem behind successful victories, and how to apply them
Recognize their opponents vulnerabilities and knowing when to strike
Understand why all warfare is based on deception and how to seek the truth
Identify circumstances when the goal may not be to win a battle, but to avoid one when possible
'The Art of War' from SmarterComics is a free eBook that can be instantly downloaded onto reader's iPads.
Fans can download this eBook and many more at: http://smartercomics.com/TheArtOfWar
About SmarterComics:
SmarterComics is a technology driven publishing company based in the Silicon Valley that turns bestselling books into comic books - comics that make you smarter!
The company's award winning illustrators bring talent from prestigious comic companies including Marvel and DC Comics, lending a rich graphical style to the SmarterComics library. Many of their scriptwriters and editors have won awards that are equivalent to the Oscars in the comic genre: the Eisenhower and the Harvey Awards.
###