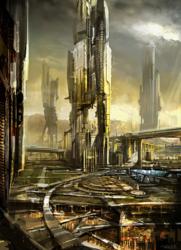 Cecil Kim joins Section Studios as a Chief Creative Officer after 11 years of employment with Sony Computer Entertainment America's Santa Monica Studio.
Los Angeles, CA (PRWEB) October 12, 2011
Cecil Kim, best known for his lead concept work for the hit action adventure video game franchise, joins Section Studios and Bluecanvas, Inc. after 11 years of employment with SCEA's Santa Monica Studio.
Cecil Kim was a Visual Development Lead at SCEA's Santa Monica Studio who brought the God of War® franchise and many other hit titles to the gaming world.
In early 2011, Cecil was awarded the British Academy of Film and Television Arts' "Artistic Achievement Award" for his work on God of War III.
"We're very excited to have Cecil on board as our Creative Director and CCO." said Jimmy Yun, CEO of Section Studios and Bluecanvas, Inc. "Cecil's extraordinary talent and experience will add dynamic impact, and we're looking forward to the future growth of the company."
"We have complete confidence that Cecil is the right person to help lead the company," added Justin Yun, CCO of Section Studios. "Cecil's 15 years of experience as a concept artist and illustrator in the entertainment industry have been marked by outstanding performance, and he has demonstrated remarkable talent and sound judgment in everything he does."
Although departing from SCEA wasn't an easy decision for Cecil, he feels that it is the right time to branch out, yet is grateful to have been a part of the Santa Monica Studio.
Cecil is excited to be embarking on something new with Section Studios and is looking forward to what the future brings for him and his company.
To see more of Cecil Kim's past work and to learn more about Section Studios, please visit http://www.sectionstudios.com.
About Section Studios
Section Studios is a multi-disciplinary design studio offering skills for an array of projects, including concept art, art direction, illustration, high-end web design and also IP development. Section Studios has worked with clients in television commercials, video games, music videos and film. Clients include Sony Computer Entertainment, ESPN, Lexus, Bluecanvas, Sega and UFC among many others.
Press Contact:
Justin Yun
justin(at)sectionstudios(dot)com
(213) 617-8012
###