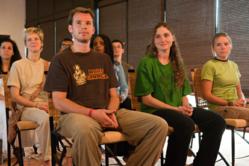 Sadhguru's Inner Engineering corporate program doesn't offer the high-minded, intangible discourses of a philosopher. Instead, it offers practical, applicable wisdom and a powerful 21-minute yogic kriya crafted to engineer one's own "inner climate".
LA, CA (PRWEB) October 14, 2011
Yogi, Sadhguru Vasudev will be visiting Los Angeles, New York metro area, and Toronto in the next few weeks to offer Shambhavi Mahamudra, a yogic kriya that utilizes the breath and the vital energy of the human system to bring about a deep state of meditativeness. The practice is an extension of the Inner Engineering Online program. Inner Engineering was designed by Sadhguru as a powerful antidote to the intense stress of our modern lifestyle, which seems to be even greater during economic recession.
According to a recent poll, "employee satisfaction has hit the lowest level in the 22-year history of the Conference Board's annual survey on the topic," reported the Wall Street Journal (May 2011). "Only 45% of U.S. workers are satisfied with their jobs, down from 52% in 2005 and 61% in 1987, says this 5,000-household study." Increasing job stress may be one factor.
A corporate communications professional in New York, Angie Pitman was stressed-out, burned-out and thinking about quitting her job before she tried Inner Engineering. "I was already working long hours when someone on my team got laid-off, and I received half of their workload, too! I just wanted to run from the building," she said, laughing. "But, the truth is I love my job. I didn't want to leave. I just wanted to somehow get a handle on things."
Employers are responding to the increasing dissatisfaction with a more humanistic approach to management that is grounded in both the modern science of positive psychology and the ancient science of meditation. In 2006, Businessweek marked the burgeoning trend "Karma Capitalism" (Oct, 2006)--an effort toward "balancing the compulsion to amass wealth with the desire for inner happiness."
"Happiness-at-work coaching is the theme of a crop of new business books and a growing number of MBA-school courses," reported the Journal article, with mentions of positive-psych coaching springing-up even in some of America's largest corporations, "…including, UBS, American Express, KPMG and the law firm Goodwin Procter."
Sadhguru is not surprised by the trend. He has been responding to a flood of requests in the last five years to address corporations and leadership forums about happiness and fulfillment at work. "We have done too much external engineering with the world," Sadhguru stated pointedly in a recent introductory talk. "It is time we engineered ourselves to live as joyous beings."
According to Sadhguru, the 10,000-year-old inner technology of yoga and meditation has been largely misunderstood and, therefore, underutilized. As he explains it, the yogic methods are not a religion, an exercise form or a stress-management method; it is a complete set of tools utilizing body, breath, mind, and vital energy to reach ever-higher states of life experience and perception. "If you go deep enough into yourself, there is a way to be not just happy—to be ecstatic—to be truly joyous by your own nature," Sadhguru emphasized.
There is no need to seek happiness through wealth or other pleasures, he insists. Nor do you need to disappear into the woods or mountains to find inner peace. Peace is only your quality, he explains, if it exists amidst chaos.
Sadhguru's Inner Engineering corporate program doesn't offer the high-minded, intangible discourses of a philosopher. Instead, it offers practical, applicable wisdom and a powerful 21-minute yogic kriya crafted specifically to engineer one's own "inner climate."
Sadhguru elaborated: "Suppose you lose your peace. You go to the doctor. He gives you a pill. It's a dose of chemical--he gives you a little bit of peace. Or, in other words, peace is a certain kind of chemistry. Similarly, happiness is, love is, fear is, hatred is, suffering is, misery is--everything that you go through is a certain kind of chemistry. With proper practice of yoga you are creating the right kind of chemistry where you are naturally peaceful, naturally joyous, naturally loving within you."
Many, like Angie, who have taken Sadhguru's Inner Engineering program say his methods do just that. "The practice has given me a 'deep rudder,'" explained Angie. "I am calm now even in really high pressure situations. Because I'm calm, I can think clearly, make better decisions, get more work done, and guide my team better. It has reduced my stress enormously. I have much more energy at the end of the day and I'm much, much happier."
Hemant Vyas, an engineer from Atlanta, has recognized a new level of flexibility and focus in his thinking. "Being in a start-up demands innovative ideas and an ability to stay abreast of advanced technologies," he said. "The pace with which the company can capitalize on limited resources determines its future, so intense multitasking is an integral part of my job. Practice of the Shambhavi kriya has kept me sharp and focused. I can tackle complex problems with relative nonchalance."
Sadhguru will be visiting Los Angeles, October 15th-16th, New Jersey, November 5th – 6th, and Toronto, November 12th – 13th to offer Shambhavi Mahamudra, a simple daily yoga practice that is part of the Inner Engineering Online program (The online program is prerequisite for attending the Shambhavi class). See innerenginnering.com or call 877.831.2705 for more information.###