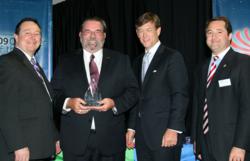 Our small company provided a solution for green alternative fuel use without any government grants or directives...
Bowling Green, KY (PRWEB) October 12, 2011
Quick Fuel Technology, an aftermarket manufacturer of fuel system components for performance street and race vehicles was recently awarded the 2011 Business Innovation Award from the Bowling Green Chamber of Commerce in Bowling Green, Kentucky. The Chamber cited Quick Fuel's innovative design in carburetors and carburetor conversion kits for E-85 ethanol alternative fuels. Quick Fuel Technology began producing E-85 compatible carburetors for various forms of racing in 2008 and has evolved its carburetor line to include replacement carburetors for popular street-driven vehicles.
In a post banquet interview Quick Fuel Technology President and CEO Marvin Benoit stated, "We are honored to receive this prestigious award. I believe it shows that American small business is still the leader in innovation around the world. Our small company provided a solution for green alternative fuel use without any government grants or directives – just the ability to recognize a need, and the expertise to fill it."
E-85 fuels were introduced as low emission, renewable resource fuels made up of 85-percent ethanol and 15-percent conventional gasoline. Unfortunately, the corrosive properties and low thermal content of ethanol limited the number of vehicles that could use E-85 to the newer fuel injected "Flex-Fuel" vehicles available from the factory. On the plus side, E-85 offers a performance friendly 105 octane rating making it a viable fuel for weekend racers and performance enthusiasts. Prior to Quick Fuel Technology's E-85 carburetors, the millions of carbureted vehicles still on the road were unable to take advantage of E-85.
The ethanol in E-85 has a tendency to deteriorate certain rubber and plastic components in pre-1998 vehicle fuel systems – plus vehicles require approximately 30-percent more fuel to maintain the same power level as conventional gasoline. Quick Fuel's E-85 carburetors feature special billet aluminum metering blocks calibrated for the increased fuel demand. Special bullet-type stainless steel inlet needle and seat assemblies prevent sticking caused by contaminants in the fuel. Rubber components such as accelerator pump diaphragms have been replaced with special E-85 resistant GFLT material. The unique Quick Fuel aluminum fuel bowls are coated for corrosion protection and special composition alcohol-resistant floats are installed to withstand E-85.
Quick Fuel Technology offers a complete line of E-85 race carburetors from a 500cfm two-barrel to giant 1050cfm 4500 four-barrels. They also offer E-85 carburetor conversion kits for 4150 and 4500-style carburetors for those who want to save some money and use the main components of the carburetors they already have. Quick Fuel's E-85 Super Street carburetor is a universal 650cfm four-barrel that covers about 95-percent of carbureted V8s on the road today. They are equipped with a solid-state electronic choke for easy starting in cold weather.
For more information please contact, Quick Fuel Technology, 129 Dishman Lane, Bowling Green, KY 42101. Phone (270) 793-0900. Fax (270) 793-0951. Email: quickfuel[at]earthlink.net or visit us at quickfueltechnology[dot]com.
###