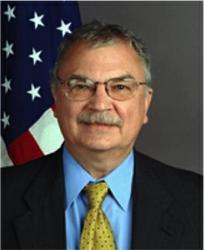 (PRWEB) October 10, 2011
US Ambassador Michael W. Michalak will be the keynote speaker at Doing Business with Asia-Pacific Countries International Business Breakfast Program, part of the APEC Road Show October 14 at the University of Tulsa.
A career Foreign Service Officer with extensive knowledge and experience in Asia, Michalak will speak about opportunities in Malaysia, Thailand, Singapore and Indonesia, as well as the goals of APEC. APEC is the Asia Pacific Economic Cooperation and Tulsa was among a handful of cities selected for the road show, designed to educate business on the trends and requirements to do business in Asia-Pacific countries. Previous road show stops included Honolulu, Los Angeles, San Francisco, Houston and Chicago.
The Ambassador will be joined at the road show presentation by Oklahoma business leaders who are currently involved or previously expanded into the Asia-Pacific market. Panelists include: George Lee III, VP of Red Devil Inc., Dr. Hoang Thinh Nhan, Petrovietnam University professor and Mark Zwolak, currently Finance Director at Hilti North America, with previous experience in Asia while at CIBA Vision in Atlanta.
Michalak served as the United States Ambassador to Vietnam from August, 2007 to February 2011. Prior to his position in Vietnam, Ambassador Michalak served as the U.S. Senior Official to APEC, Bureau of East Asia Pacific Affairs. During his more than 30 years of service with the U.S. Department of State, Ambassador Michalak worked in Tokyo, Japan; Sydney, Australia; Islamabad, Pakistan; Beijing, China; as well as Washington, D.C., where he was assigned to the Bureau of East Asian and Pacific Affairs, the Office for Japan and the Office of Chinese and Mongolian Affairs.
Born in Detroit, Michigan, he received his Bachelor of Science and Master of Science degrees in Physics from Oakland University in Rochester, Michigan, and Catholic University of America in Washington, D.C., respectively. He received a second Master's degree in Public Administration from the John F. Kennedy School of Government at Harvard University in Cambridge, Massachusetts. He speaks Chinese and Japanese.
Breakfast is at 7:30 a.m., with program from 8 a.m. to 10:30 a.m. in the Great Hall of Allan Chapman Activity Center, 5th Place and Gary Avenue on the University of Tulsa campus. Registration is $45; with a discounted fee of $35 for companies with three or more. Register online at http://bus.collins.utulsa.edu/CEPD/asia-pacific.asp Call 918.631.2215 for more information.
###